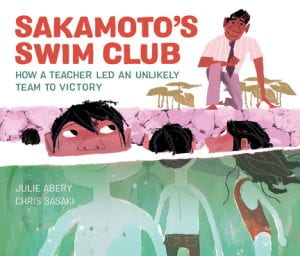 Abery, Julie, and Chris Sasaki, illustrator. Sakamoto's Swim Club: How a Teacher Led an Unlikely Team to Victory. Kids Can Press, 2021. 978-1-525-30031-8. unpaged. $17.99. Grades K-3.
In the 1930s, children on Maui played in the irrigation ditches lining the Hawaiian island's sugar cane plantations. Local science teacher Soichi Sakamoto took an interest in training the kids in proper swimming techniques, reinforcing their "pace, rhythm / strength, speed." After the sugar company built a community pool, Sakamoto and his swimmers formed the Three-Year Swim Club with hopes of competing at the Olympic Games. World War II forced the cancellation of the 1940 Summer Olympics, but Coach Sakamoto's athletes continued to train, and one of them won a gold medal (and set records) at the 1948 Olympics in London! Author Julie Abery tells this true story in short passages of rhyming verse that are packed with meaning. For example, on the page representing the start of WWII with smoke over an empty lap pool, she writes, "Dawn raids shatter / peaceful skies. / Athletes answer / country's cries." Chris Sasaki's illustrations depict smiling young swimmers churning through the water, as well as the beautiful colors and natural wonders of Maui.
THOUGHTS: True stories of athletes overcoming long odds are always popular; this one is also a great example of illustrated nonfiction for young readers.
Picture Book          Amy V. Pickett, Ridley SD