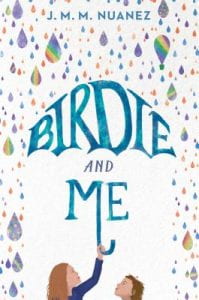 Nuanez, J.M.M. Birdie and Me. Kathy Dawson Books, 2020. 978-0-399-18677-6. 249 p. $14.81. Grades 5-8.
Jack and her little brother, Birdie, were perfectly happy living with Uncle Carl after their mother's sudden death. Uncle Carl let them eat as many Honey Bunny Buns as they wanted, school was optional, and Birdie could wear his lip gloss and sparkly clothes.  But it turns out school is not optional, so Jack and Birdie are now going to live with Uncle Patrick. Life with Uncle Patrick is very different from their life with Uncle Carl or their life with their mom. He doesn't talk much, and Jack and Birdie are sure he doesn't like them. Living with Uncle Patrick means school every day, and Birdie will have to wear "normal" clothes if he wants to fit in with his classmates. But what about Jack? Can she find a way to fit in? And will Birdie's bully back off if he wears the clothes Uncle Patrick buys for him? It won't be easy, but if they all can confront the past, they may just find a way to become a family.

THOUGHTS: This is a beautiful debut about love and loss and how to make a family. An important addition to middle school libraries.
Realistic          Melissa Johnston, North Allegheny SD