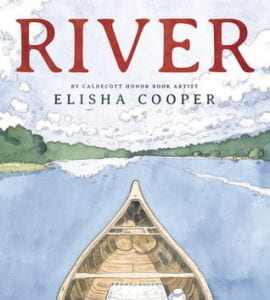 Cooper, Elisha. River. Orchard Books, 2019. 978-1-338-31226-3. Unpaged. $18.99. Grades 2-5.
"Humans are bound to water….We are connected by water, more connected than we know." Elisha Cooper ends her author's notes with these words, connected to a picture of a family discussing the trip. At the start of the story readers see the same scene, and in between is one woman's solo canoe journey down the Hudson River. It becomes a 300 mile testament to this statement by Elisha Cooper. When the woman leaves her home and family one morning and turns to wave back to them, readers are none the wiser to what lay ahead, but I suspect that she knows! Ahead are various wild animals, river obstacles, weather challenges, and people and places both expected and unbelievable. Taking on the Hudson and ever moving onward, Cooper gives us short, poetic observations accompanying gorgeous detailed water colors. Readers will empathize and connect with the woman's journey as she sees beauty and faces solitude. The pacing of the story is ideal, lulling readers along the current and then rapidly increasing around the next turn. By the end of the journey and the reunion of her family at the Sandy Hook Lighthouse, the connection between humans, the environment, and the river flows through us all.
THOUGHTS: This river experience may not be something that many kids can experience, but I think they will appreciate it and pause often to consider her journey. They can follow the map, make predictions, and ask questions as they read – maybe by journaling and sketching themselves! Cooper's other works would make for an extended author study and insight into researching and writing.
Picture Book          Dustin Brackbill, State College Area SD
---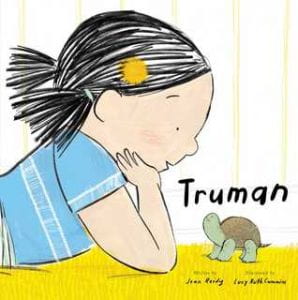 Reidy, Jean, and Lucy Ruth Cummins. Truman. Atheneum Books for Young Readers, 2019. 978-1-534-41664-2. Unpaged. $17.99. Grades K-2.
The life of a sweet pet tortoise named Truman is pretty chill most days. The city down below rumbles on while Truman and Sarah stayed quietly above together. Then one day, Sarah preps a backpack, leaves extra snacks for Truman, and gets on the southbound bus. Truman waits as patiently as can be, until it is time for action so that he can reunite with Sarah. His journey seems impossible, and the perfect, colorful illustrations by Lucy Ruth Cummins give perspective to his challenges. Young readers will be surprised at what happens next and what secret lives their pets may have when they are off at school!!
THOUGHTS: As the owner of both a land turtle and water turtle who have escaped and gone on adventures, this tender story hits some sentimental notes! Pair this with other pet stories, such as Memoirs of a Goldfish, to let young readers see point of view and perspective before trying to write their own narrative pet tales!
Picture Book          Dustin Brackbill, State College Area SD
---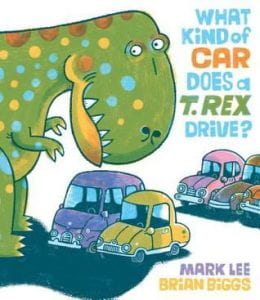 Lee, Mark. What Kind of Car Does a T. Rex Drive? G.P. Putnam's Sons, 2019. 978-1-524-74123-5. Unpaged. $17.99. Grades K-2.
Uncle Otto owns a car lot and is surprised when a number of dinosaurs come shopping for a car. One by one, each dinosaur looks for a car that will suit him or her. Stegosaurus finds an off-the road vehicle so that he can find some plants in the forest. Pterodactyl buys a convertible, so he can feel the breeze as he drives to the ocean to find some fish to eat. Triceratops purchases a delivery van, so she can get in through the back doors. Uncle Otto and the children are concerned when T. Rex appears and is not pleased with the options. Finally, the children find the answer- a monster truck! Brian Riggs's humorous illustrations are done in brush and ink and colored digitally. The whimsically drawn dinosaurs appear on a large scale and take up most of the space on each two page spread.
THOUGHTS: This text makes for a great read aloud. Hand this one to those children who can't get enough of dinosaurs. A good choice for elementary collections.
Easy          Denise Medwick, Retired, West Allegheny SD
---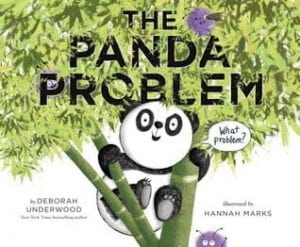 Underwood, Deborah. The Panda Problem. Dial Books for Young Readers. 2019. 978-0-735-22850-4. $17.99. Grades K-2.
A simple story read by a simple narrator about a panda who has a problem. Except… he doesn't have a problem. In fact, he is perfectly fine! But… if the panda is perfectly fine, how can the narrator read a story? Stories have to have problems, after all, that is what makes a story a story! So the panda decides to help by creating a problem… after a problem… after a problem! Panda soon realized that he does not have imaginary problems, but now he has real problems and needs the narrator to read the story and get him out of the problem! Read to discover what trouble the panda is getting himself into.
THOUGHTS: A cute read with dialect between the narrator and the main character of the story. A great piece to read aloud with two readers, each acting out the part of the character or narrator.
Picture Book          Rachel Burkhouse, Otto-Eldred SD
---
Rayner, Jacqueline K. Hats are Not for Cats. Clarion Books. 2019. 978-1-328-96719-0. $17.99. Grades K-2
Did you know that hats are not for cats? Not any kind of hat. Funny, serious, large, or small, cats are not supposed to wear hats. That is what dog tells cat at least. Do you think that will stop cat (and cat's friends) from listening? It makes you wonder what dog thinks when he sees that these cats are all wearing hats. Maybe cats can wear hats, but dogs cannot. Do you think cats should be able to wear hats? Read through this story to discover your answer!
THOUGHTS: A simple read with beautiful illustrations of cat and dog having a conversation about the issue of cats wearing hats. A read that many beginning readers would be able to pick up and read independently.
Picture Book           Rachel Burkhouse, Otto-Eldred SD
---
Bond, John. Mini Rabbit is Not Lost. Neal Porter Books. 2019. 978-0-823-44358-1. $18.99. Grades K-2
Mini Rabbit LOVES cake! While baking a cake with Mother Rabbit, they discover that there are no berries left for the cake! Mini Rabbit decides to go out to find berries but does not realize that there are berries just below his house! Mini Rabbit travels on a marvelous journey to find berries, but ends up getting lost, even if he won't admit it. What will it take to get Mini Rabbit back home? Perhaps the smell of something delicious…
THOUGHTS: A hysterical read of a Mini Rabbit going out on a journey. This story is fantastic when read with different voices, especially for a young, hyper Mini Rabbit. A must read for students!
Picture Book          Rachel Burkhouse, Otto-Eldred SD
---
Gonzales, Debbie. Girls with Guts! The Road to Breaking Barriers and Bashing Records. Charlesbridge, 2019. 978-1-580-89747-1. 32 p. $16.99. Grades 3-6. 
Today, girls are free to compete in any sport they wish to pursue. Historically, this was not the case; however, and this book chronicles the history of female participation in organized athletics from ancient times to today. In Ancient Greece, females were punished for merely watching the Olympic Games. And, during the first modern Olympics in 1896, women were not allowed to compete in any events. It took athletes like basketball player Senda Berenson Abbot, swimmer Gertrude Ederle, tennis star Althea Gibson, swimmer Donna de Varona, and others to break down barriers and help level the athletic field for women. In addition to highlighting groundbreaking female athletes, this title also spotlights the women who were instrumental in campaigning for and drafting Title IX, which mandates equal treatment for competitive girls. A timeline at the back of the book chronicles milestones in the history of women's athletics. 
THOUGHTS: This title fills a void in many library collections by exploring the history of competitive athletics for women. It also provides introductory biographical information about ground-breaking female athletes and congresswomen who fought for Title IX legislation. Vibrant acrylic paintings depict women engaged in all kinds of athletic endeavors, and both white and non-white women are included. An Author's Note on the book's final page explores what it truly means to "play like a girl" and discusses the state of women's professional athletics today.
796.082 Athletic & Outdoor Sports & Games          Anne Bozievich, Southern York County SD
---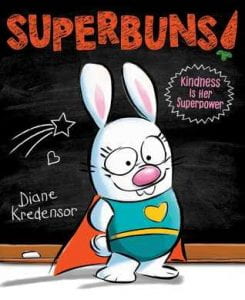 Kredensor, Diane. Superbuns! Kindness is Her Superpower. Aladdin, 2019. 978-1-481-49068-9. 40 p. $17.99. Grades K-2. 
As Superbuns and her older sister, Blossom, make their way through the city to granny's house, Superbuns stops several times to perform random acts of kindness. She waters plants, compliments friends, feeds pets, and blows up balloons. Blossom, who is a bit of a know-it-all, repeatedly reminds Superbuns that kind is kind, but it is not a superpower. It's only when the sisters have a surprise run-in with a fox that Blossom realizes the true power of being kind and the effect it has both on the recipient and the bestower. 
THOUGHTS: This sweet story about the power of kindness is geared toward the youngest readers, and it will be a great fit for kindergarten and first grade classrooms. It will also work for morning meetings and could be used in conjunction with guidance lessons about what kindness looks like. The vibrantly colored cartoon illustrations will draw in young readers, and comic fans will relate to Superbuns's fascination with superheroes. 
Picture Book          Anne Bozievich, Southern York County SD
---
Slade, Suzanne. A Computer Called Katherine: How Katherine Johnson Helped Put America on the Moon. Little, Brown and Company, 2019. 978-0-316-43517-8. 32 p. $18.99. Grades K-3. 
Numbers and counting were always important parts of Katherine's life, even when she was a young girl. At school, math came easily to her, and she skipped first and fifth grade, eventually entering college when she was fifteen. At West Virginia State, Katherine excelled in all the math classes she took, but her favorite was advanced geometry where she studied curving parabolas. Katherine believed women could have any job they wanted, and she set her sights on a mathematics job at a Virginia research center. There, she worked as a "computer," performing advanced calculations to support airplane engineers. Katherine stood out from the other women at the facility because of her knack for asking intelligent questions, and soon, she was invited to join a team working to send the first American astronaut into space. When Neil Armstrong took his first steps on the moon, his Apollo 11 ship followed a flight path designed and approved by Katherine. 
THOUGHTS: This age-appropriate book will be a perfect fit for elementary STEM units, particularly ones focusing on female pioneers in the fields of math and science. Beautiful ink and watercolor illustrations have complex mathematical equations in the backgrounds, symbolizing how numbers were always on Katherine's mind. Backmatter features primary source materials, including Katherine's notes and calculations for the Apollo landing as well as a timeline of Katherine's life. 
510 Mathematics          Anne Bozievich, Southern York County SD
---
Saeed, Aisha. Bilal Cooks Daal. Salaam Reads, 2019. 978-1-534-41810-3. 32 p. $17.99. Grades K-3.
When six-year-old Bilal's father, Abu, calls him in from playing to help with dinner preparations, Bilal's friends question what kind of meal must be prepared so early in the day. Bilal explains that his father is cooking daal. He describes the nutty, creamy Pakistani dish to them and invites his friends over to assist with preparations. Together, the children measure and combine the ingredients, and Abu heats everything in a large pot. While it simmers, the children return to their play. As they run, swim, hike, and skip pebbles, they wonder if the food is ready yet, but Bilal reminds his friends that the daal takes time to cook. When Abu finally calls everyone in for supper, Bilal is worried that his friends won't like the daal. He watches his friends' reactions carefully, but they all agree: the daal is delicious! An Author's Note at the end of the book describes different kinds of daal and the way it is traditionally eaten as well as a recipe for cooking the daal referenced in the story. 
THOUGHTS: This story is a celebration of food, friendship, and culture, and the process of cooking the daal reminds readers that good things take time. Readers from multicultural families will relate to Bilal's anxiety about his friends trying a traditional dish from his family's homeland, and the story may prompt discussions about other favorite cultural foods. Lively digital illustrations depict a diverse group of children who are eager to learn about their friend's heritage. 
Picture Book          Anne Bozievich, Southern York County SD