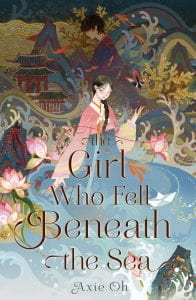 Oh, Axie. The Girl Who Fell Beneath the Sea. Hodder and Stoughton, 2022. 978-1-529-39199-2. 321 p. $16.99. Grades 9-12.
Every year in Mina's town a maiden is sacrificed to the Sea God hoping to stop all the devastating floods and wars that the townspeople think is due to the Sea God being angry. Mina's older brother Joon is in love with Shim Cheong, a beautiful girl from their village, and one year it is decided that she will be sacrificed to the Sea God. Joon decides to follow and interfere which Mina knows means that he will die. In a split moment decision, Mina throws herself into the water, saving her brother and hoping that she can be the Sea God's "true bride" and stop all the devastation that is plaguing her town. But when Mina gets to the Spirit Realm, she finds that the Sea God is trapped in an enchanted sleep. Will Mina be able to wake him up and save her town? Or will she be trapped in the Spirit Realm forever?
THOUGHTS: This was a wonderful fantasy stand alone! There are several twists and turns which just add to the overall feel of the story making the reader need to keep turning the pages to see what happens. This book is a great addition to any high school collection!!
Fantasy            Mary McEndree, Lehigh Valley Regional Charter Academy