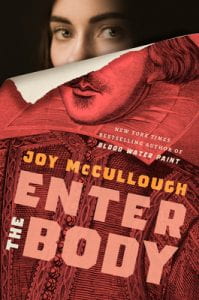 McCullough, Joy. Enter the Body. Dutton Books for Young Readers, 2023. 978-0-593-40675-5 . 336 p. $18.99. Grades 9-12.
Question: What happens when you place Juliet, Ophelia, Cordelia, and Lavinia in a room beneath the famous Bard's stage? Answer: They develop a voice and get to tell their story, their way. It sounds like a corny joke but is anything except a joking matter. All wronged by their co-stars and the famous Bard, each young woman has the opportunity to talk through (when able) her experiences in what reads like a group therapy session. The women are given the chance to decide how they would have done things differently if given another occasion and the ability to make their own decisions. Familiarity with Shakespeare's Romeo and Juliet, Hamlet, King Lear, and Titus Andronicus (I was familiar with all but the last) is helpful for context but not a necessity. Naive readers – or those not familiar with the plays – may miss the seriousness of this tale (all of these characters were seriously wronged and are dead) but will enjoy the story nonetheless. At times this novel in verse reads like a teenage sleepover, with characters constantly interrupting each other. McCullough brings a contemporary voice to these classic characters that will resonate with today's readers.
THOUGHTS: The audiobook is outstanding! One does not need to like Shakespeare or classic literature and plays – I am not a fan of either – to be moved by Enter the Body. Highly recommended for high school collections.
Historical Fiction