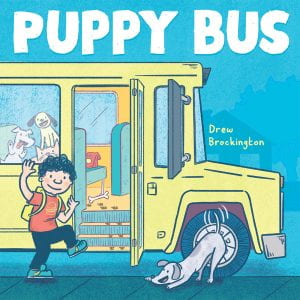 Brockington, Drew. Puppy Bus. Abrams Books, 2022. 978-1-419-75191-2. 40 p. $17.99. Grades PK-2.
Puppy Bus begins with a young boy who reluctantly climbs on the bus for his first day at a new school after a big move. He takes his seat… and quickly realizes that he has climbed onto the wrong bus. He's on the PUPPY BUS!  And where does the puppy bus go!? Puppy school! What to do!? Go to class! But class is strange and confusing, and the food is terrible! The boy begins to miss his old friends and family…and wants to go home–until a friendly puppy offers friendship. Puppy school might not be so bad after all! 
THOUGHTS: Unique to this book is the storyline that the main character is starting a new school after a move (rather than it being the first day of school). This welcome addition to shelves of school stories will bring smiles to young readers' faces and make the task of going to school seem just a little less daunting (at least they serve people food at school!). Recommended, particularly for schools looking to refresh their school stories shelves and for those looking for a fun welcome for their move-ins!
Picture Book          Hannah J. Thomas, Central Bucks SD