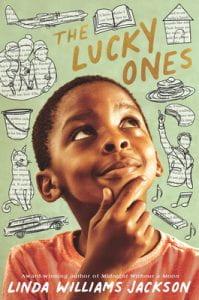 Jackson, Linda Williams. The Lucky Ones. Candlewick Press, 2022. 978-1-536-22255-5. 304 p. $18.99. Grades 5-8.
Sixth grader, Ellis Earl Brown, loves school, learning, and his family–all ten of them. Living in rural Wilsonville, Mississippi, in 1960's, money is tight, work is scarce, and living quarters are crowded and dilapidated for this African American family. Ellis cherishes his time in Mr. Foster's class where he is nourished with the knowledge of a world outside of his small town and with the teacher's shared lunches. A dedicated student, Ellis Earl's greatest fear is that Mama may be forced to make him quit school and relinquish his dream to become a lawyer or teacher or both. In the spring of 1967, Ellis is reading Roald Dahl's Charlie and the Chocolate Factory and compares himself to Willy Wonka whose family is also cramped into a small space and hoping for something lucky to happen. Earnest and thoughtful, Ellis Earl sacrifices for his family; worries about his sick brother, Oscar; and frets over his Mama's exhaustion. Still, he is a real person. He corrects –mentally–his siblings' grammar errors, whines when the rains flood the roads making going to school impossible, and is jealous of his class rival, Philip, who appears financially comfortable. Mr. Foster tells Ellis about the influence of civil rights lawyer, Marian Wright, on the presidential hopeful, Robert Fitzgerald Kennedy. When Kennedy comes to visit the Delta to witness the devastating poverty himself, Ellis is part of the entourage the teacher brings to the airport in Jackson. The highly-anticipated trip is marred by racism, however, when the group stops to eat at a diner, supposedly integrated by law. The Brown family is also one of the lucky ones who get a visit from Senator Kennedy. In a series of connected events, Ellis's family has the chance to better their lives through the assistance of Mr. Foster and Ms. Wright. Like Willy, Ellis has been given the "golden ticket," the opportunity to build a life for him and his family through education and social services. Overall, he learns to appreciate the invaluable gift of having the support and encouragement of loved ones over material objects. In The Lucky Ones, Linda Williams Jackson presents a memorable character in Ellis Earl Brown and a realistic picture of a large family handling well what little life brings them. With not a speck of condescension, Jackson describes the bareness of the Brown's household furnishings, the lack of food, and the struggle to find work. She conveys the rigor of the school and intelligence of its students, despite the hardships surrounding their education: no electricity, no transportation other than the teacher's kindness, and no medical benefits. Most importantly, she places the reader in the midst of a big family who holler, goad, tease, and boss each other while also watching out and caring for one another. All the positives that sew up the story's ending may seem too good to be true, but one thing is certain, the closeness of the Brown family makes them the lucky ones.
THOUGHTS: Linda Williams Jackson writes in a forthright way about a time in history I don't see covered in children's literature and fleshes out what it is/was like to grow up poor. In the context of the Brown family, being poor is difficult and unfair but respectable. Jackson emphasizes the important roles of government social welfare organizations and the church in supplying the basic necessities of life to needy people. Ellis Earl's family are not church goers, not because they are non believers, but because Mama thinks they have no appropriate clothes in which to attend a service. Ellis's desire to go to church has more to do with the free breakfast than devotion. The portrayal of the teachers at Ellis's school–particularly Mr. Foster–is one of dedication and humility. He drives the students to school in his lime green station wagon, he brings them drumsticks to eat for lunch, he buys Ellis a suit to wear when he is chosen to give a recitation–and all of this dispatched with the conviction and impression that these children deserve such services and more.
Historical Fiction          Bernadette Cooke, School District of Philadelphia