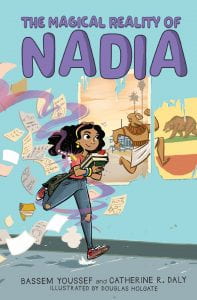 Youssef, Bassam. The Magical Reality of Nadia. Scholastic Press, 2021. 978-1-338-67481-1. 176 p. $14.99. Grades 3-6.
The Magical Reality of Nadia is a realistic fiction that follows Nadia, a 6th grade student who loves facts, and loves sharing them with her friends and classmates. Some fun facts about her: her family moved from Egypt when she was 6 years old, she collects bobbleheads, and she has a hippo amulet she wears that is actually from Ancient Egypt. One day there is a new student that comes to Nadia's school who teases her about her heritage which causes some issues with her friends and throws Nadia for a loop. The other thing that throws her for a loop? The amulet around Nadia's neck starts glowing! She finds that her amulet was holding a secret, which is hilarious and helpful at the same time!
THOUGHTS: This is an amazing transition novel, for a student who isn't ready for longer chapter books. There are black and white illustrations found throughout the novel, which break up the book. This is a great book to have in any upper elementary/middle school collection.
Realistic Fiction          Mary Hyson, Lehigh Valley Regional Charter Academy