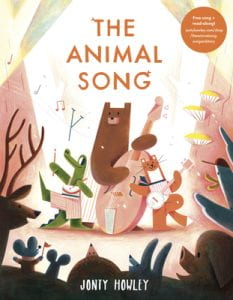 Howley, Jonty. The Animal Song. Random House Studio. 2023. 978-0-593-38146-5. $18.99. Grades PreK-3.
A bear, crocodile, and a weasel. What do they have in common? They love music and are in a band together! From spring to fall, these animals play music for their forest friends. When winter hits and their forest friends go to sleep, they don't have anyone to play for, and they aren't ready to go to sleep! This musical animal band moves and continues playing through the winter, until finally, everyone is ready to sleep!
THOUGHTS: A fun musical story with a fun rhythm to read. The back of the book contains the lyrics and musical score for The Animal Song, allowing musical readers to play and sing along!
Picture Book