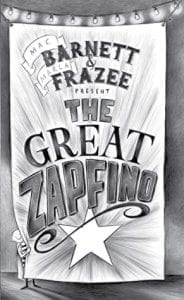 Barnett, Mac. The Great Zapfino. Beach Lane Books, 2022. Unpaged. 978-1-534-41154-8. Grades 1-3. $17.99.
In this nearly wordless picture book, Barnett has created a likable character named Zapfino who works as a high diving artist in the circus. As the story begins, the ringmaster announces that Zapfino will dive from a height of ten stories into a trampoline. The performer, wearing a cape monogrammed with a Z, climbs up a very tall ladder, but then seems tentative about jumping and simply disappears. Zapfino is next seen purchasing an airplane ticket to a coastal destination. He finds a job as an elevator operator in an apartment building located on a beach with palm trees. As a perk, he is given a room on the 10 ½ floor. Up and down in the elevator goes Zapfino, who finds himself very tired at the end of the day. While waiting for his toast to pop up, he falls asleep and wakes up to heavy black smoke. Fire engines arrive, and his only way out is to jump from the tenth floor into the fire rescue trampoline. Can he overcome his fear of heights and take the plunge? Marla Frazee's charming drawings were created with black pencil. The illustrator depicts Zapfino as a small unassuming man, whose smile does not appear until the end of the story. The apartment building is drawn in the Art Moderne style, and the elevator passengers are shown in small multi-panel displays. A drawing on the back cover puts a finishing touch on the story.
THOUGHTS: This is a simple and engaging text about overcoming fears. Children will be fascinated by the tiny panels which reveal the personalities and interests of the residents. The trim size (31 cm. x 18 cm.) is a great vehicle for creating the illusion of height. Highly recommended for elementary collections.
Picture Book          Denise Medwick, Retired, PSLA Member