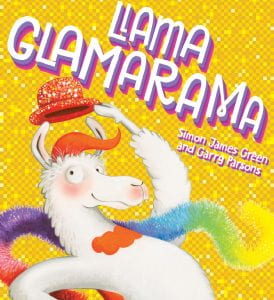 Green, Simon James. LLama Glamarama. Orchard Books, 2021. 978-1-338-73618-2. 32 p. $14.99. Grades PreK-1.
Larry the llama has a secret… he loves to dance! He doesn't tell his llama friends because he doesn't want them to judge him. However, one night they find a pair of dancing shoes in his room and he decides to take off and find some place where he can dance without being judged (all while being home in time for tea). While Larry finds the Llama Glamarama that accepts him and his love of dancing, he does go back to his friends and admits that he loves to dance. This leads to a great conversation with his friends who admit all of the things they love, with one of them admitting he isn't even a llama!! The illustrations are wonderfully done! The way the text flows throughout the book causes the reader to engage more with the illustrations as the text sizing changes.
THOUGHTS: WONDERFUL! This book is such a great testament to being true to yourself, and even though this book is geared towards a younger audience, older students will love this book. This would be a great read aloud for any elementary class for teaching understanding and acceptance. The author has a Llama Glamarama party kit on his website, which I would also recommend checking out.
Picture Book          Mary Hyson, Lehigh Valley Regional Charter Academy