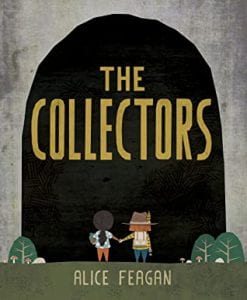 Feagan, Alice. The Collectors. Kids Can Press, 2021. 978-1-525-30204-6. Unpaged. $17.99. Grades PreK-2.
Winslow and Rosie, two young, intrepid naturalists, are seeking the pièce de résistance to their impressive collection. They pledge to locate something they never have found before and set off into the forest. They find a spectacular gem, but it is too heavy; the T-Rex skeleton is too big; a rainbow too far. Each marvel they encounter is problematic, and the girls walk farther and farther. When they come to a cave, Winslow and Rosie are certain this is where they will find something unique and extraordinary, but something finds them first, and the girls flee the cave, running all the way back to their cozy treehouse. At first, they claim the day a failure, but slowly they identify all the new experiences they had. Finally, something new and wonderful appears right under their noses. This gorgeous book celebrates treasures wherever we find them, big or small. Feagan's cut-paper collage illustrations are warm and delightful, imbuing each girl with character. Winslow is portrayed as white, while Rosie has dark skin.
THOUGHTS: Reminiscent of Mac Barnett's Sam and Dave Dig a Hole (without the Twilight Zonetwist) The Collectors will make a perfect read-aloud, tie in with art class, or just plain fun. Perfect for all collections serving a primary clientele.
Picture Book          Nancy Nadig, Penn Manor SD