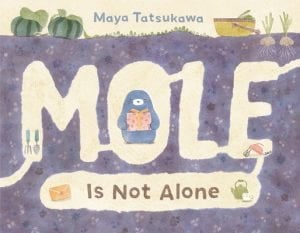 Tatsukawa, Maya. Mole Is Not Alone. Illustrated by Maya Tatsukawa. Henry Holt and Company, 2023. 978-1-250-86964-7. $18.99. Unpaged. Grades PreK-2.
When Mole is invited to Rabbit's party, he questions whether or not he should attend. Mole is extremely shy and worries that the party will be rowdy and full of people he doesn't know. However, he ultimately decides to go to the party and then proceeds to doubt this decision the entire way there. When he arrives, he finds that there are others who were also hesitant to attend, and together they discover a less stressful way to forge a new friendship. Soft, muted illustrations provide a soothing, cozy backdrop, and readers will devour all of the tiny details incorporated into the artwork.
THOUGHTS: This endearing story about making friends on one's own terms will be a welcome addition for all children who struggle with social anxiety. The delightful conclusion will provide reassurance for those who struggle in crowded social situations. Even the most sociable children can learn a lesson from this narrative, as Rabbit (the friendly, outgoing host) reacts only with patience and kindness when his bashful guests decide not to stay at his party.
Picture Book