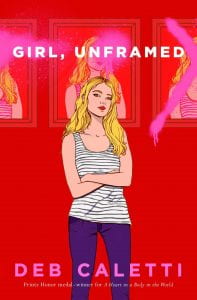 Caletti, Deb. Girl, Unframed. Simon Pulse, 2020. 978-1-534-42697-9. 368 p. $18.99. Grades 9-12.
Can you imagine if your mom was famous? Like moviestar-famous? Sydney doesn't usually have to deal with her mom and her drama, but she's going to visit her for the summer. Before setting eyes on her mom, the newest man in Lila's life picks Sydney up from the airport, and it's all downhill from there. From shady art dealings to rejected credit cards, Sydney misses her friends from home. Luckily, she befriends a guy working construction next door because shady art dealings quickly become the least of their worries. It's as if Lila's movie script has come to life, but crimes of passion are still crimes.
THOUGHTS: There is a lot of heaviness to unpack in this story, from women who prioritize beauty over motherhood and men treating women like objects, not to mention murder. A good addition for high school libraries looking for YA thrillers that are also coming of age stories.
Mystery          Samantha Hull, Ephrata Area SD