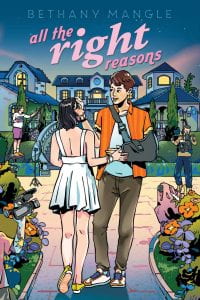 Mangle, Bethany. All the Right Reasons. Margaret K. McElderry Books, 2022. 978-1-534-49903-4. 288 p. $18.99. Grades 7-12.
Cara was angry. So very angry. She was just so frustrated with her father. The fact that he left Cara and her mother. The fact that he quickly married a young bimbo. The fact that he constantly pushes her mother's buttons during therapy, and he constantly lies. So one night, after hacking her father's face out of photographs, she records an online journal entry to release her emotions. The next morning, she learns her rant was accidentally posted, and has gone viral. And caught the eye of a producer of a new reality television show pairing up single parents and their children. Before Cara, a high school senior, can live down her viral humiliation, her personal trainer mom has snagged a coveted slot on the show, and the two of them are whisked off to Key West. Cara sees the TV show as an answer to her and her mom's financial problems, never imagining that the stress of living life under the eye of the camera could cause even more strife. Luckily, she has sweet contestant Connor to turn to. But what if he ends up as her half-brother? Just, ewww! This adorable rom-com has it all: heroines to love, villains to hate, drama, fights, friends, and kisses. Plus a helping or two of love. The inside look at reality television is fascinating, and readers will sympathize with Cara's bewilderment with the pseudo-reality of the experience, never sure who is revealing their true emotions. There are a few twists and turns in the plot, but a happy ending is guaranteed. A wide range of ethnicities are represented: Cara's mom is Korean; her father white. The contestants on the show include Black and Hispanic families. Connor is white. Minor flaws in the story involve Connor's disability, which is mentioned once and dropped, and the younger members of the show's strange inability to use pen and paper once their cell phones are confiscated, but neither of these points detract from the overall joie de vivre of the book. 
THOUGHTS: This is a perfect romance for tweens and teens. Cara is devoted to her mom, and readers will understand her honest, justified anger with her father. 
Romance          Nancy Nadig, Penn Manor SD