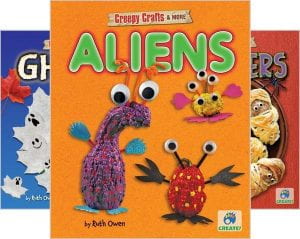 Owen, Ruth. Creepy Crafts and More. Bearport, 2021. $18.95 ea. $113.70 set of 6. 24 p. Grades 2-5.
Aliens. 978-1-647-47190-3.
Ghosts. 978-1-647-47185-9.
Monsters. 978-1-647-47187-3.
Spiders. 978-1-647-47189-7.
Vampires. 978-1-647-47188-0.
Witches. 978-1-647-47186-6.
Creepy is always popular with elementary students, and this series of books will add to the giggles and shivers. An appealing combination of crafts, snacks, facts, and history, Vampires provides hours of entertainment. All pages are illustrated, with attractive graphic design and bold colors. Craft activities contain clear, step-by-step instructions, plentiful illustrations, and no shortage of delightfully bloody details. The recipe for Vampire Fang cookies is simple enough for small hands, with adult assistance, and would make a fantastic Halloween treat. Interspersed in the pages are nuggets of vampire lore, as well as a page devoted to the super-icky vampire bat. A table of contents, glossary and index are included, as well as a selection of "Read More" suggestions and "Learn More Online" web resources.
THOUGHTS: These enticing books should be a hit with browsers, as well as readers interested in the crafts. They are hard to put down.  
745.5  Crafts          Nancy Nadig, Penn Manor SD