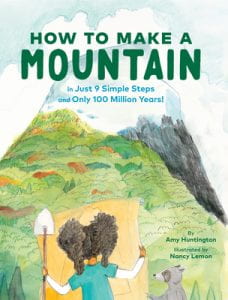 Huntington, Amy. How to Make a Mountain in Just 9 Simple Steps and Only 100 Million Years! Illustrated by Nancy Lemon. Chronicle Books, 2022. 978-1-452-17588-1. $18.99. 68 p. Grades K-3.
Mountains, of course, take millions of years to develop. If you can transcend time and need specific, but simple, directions on how to create a mountain, this is the book for you! The book is also a very easy to understand step-by-step explanation of how mountain ranges form, change and grow, and are populated by vegetation and animal life. All it really takes is a very big rock in the right place at the right time, with the right conditions… and a very long time. This amusing book (with quirky digital pencil and gouache illustrations by Nancy Lemon) makes a potentially boring topic fun and understandable. Giving excellent, age-appropriate explanations of tectonic shift, glacial impact, and changing weather patterns, this title offers a great perspective on the continued evolution of Earth.
THOUGHTS: This is a very informative book with a fun, whimsical tone. Great resource to support elementary geology, earth sciences, and environmental literacy/sustainability curriculum standards. 
551.8 Geology, Hydrology, Meteorology          Anne McKernan, Council Rock SD