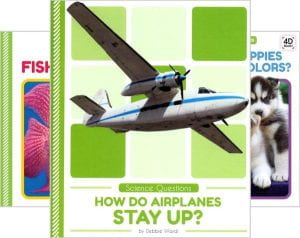 Andrews, Elizabeth. Science Questions (Set 2). Abdo Kids, 2022. $21.95 ea. $131.70 set of 6. 24 p. Gr. K-3. 
How Do Fish Breathe? 978-1-098-24107-0.
How Do Puppies Get Their Colors? 978-1-098-24108-7.
How Does a Body Heal? 978-1-098-24109-4.
How Does Plumbing Work? 978-1-098-24110-0.
Why Do Volcanoes Erupt? 978-1-098-24111-7.
Why Does a Boat Float? 978-1-098-24112-4.
The Science Questions series from Abdo Publishing is back with another six volumes answering common student questions regarding science. Each volume examines a science-related question, explaining the answer using age-appropriate language and terminology. This reviewer had the opportunity to examine How Do Fish Breathe?, a question that many children undoubtedly have wondered when watching fish in a tank or in the wild. The volume explains how oxygen is present in water and how fish use their gills to help distribute oxygen throughout their bodies. The volume closes with a brief chapter mentioning how climate change is causing falling oxygen levels in the ocean. Each volume features numerous high quality photographs, diagrams, a glossary, and making connections questions. In addition, a QR code is present where readers can access online resources such as videos, links, and activities (word search, coloring page, etc.). 
THOUGHTS: Children naturally are curious and questioning–this series is a great option to hand students with science related interests or questions. The series (and the online supplemental material) also would be useful in elementary classroom science lessons. Recommended. 
500s Science                Elizabeth Henry, Lampeter-Strasburg SD