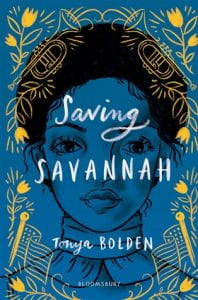 Bolden, Tonya. Saving Savannah. Bloomsbury, 2020. 978-1-681-19804-0. $17.99. Grades 6-8.
A prolific writer of nonfiction, Tonya Bolden (Maritcha, Cause: Reconstruction America 1863-1877, Take-Off: American All-Girl Bands During World War II to name a few) integrates her skill for facts into an interesting, less explored, narrative in Saving Savannah. Set in post-World War I Washington, D.C., the book focuses on Savannah Riddle, a fourteen-year-old Black girl whose family is part of the elite Black society. The story opens frivolously at a gala opulent with fashion and food and gradually builds to important period events and issues. This eye-opening ascent mirrors Savannah's maturation from a popular, pampered schoolgirl to a woke young woman of substance. At a pivotal time, Savannah is searching for a more meaningful life connected to the world outside her social strata. She learns about Nannie Helen Burroughs's School for Girls, a training school; and while volunteering there meets Lloyd, a young Black immigrant with socialist leanings. Lloyd introduces Savannah to the poverty and inequality suffered by some in her own city. She eventually gains the support and respect of her parents after the revelation of a family secret. Throughout Bolden's book, her intense research is evident. Many of the locales and persons Savannah encounters are real or have a counterpart in reality. Saving Savannah shows the Black perspective during a tumultuous time that underscores discrimination in politics and society and culminates in the brutal riots of the Red Summer of 1919. Besides being a valuable history lesson about a period that resonates with the present, the main character's transformation from a position of comfort to one of an invested citizen of the world and member of her race is a desire many of us hold today.
THOUGHTS: Like Harlem, Walter Dean Myers's period piece, Saving Savannah allows students to experience the sights and people of a different time through the eyes of a likeable character. In a sizable appendix, the author supplies background with some photos on the significant movements and personages of the early 20th century Washington, D. C. Bolden touches on multiple issues: Woodrow Wilson's color lines; the returning Black World War I veterans; the New Negro Movement spearheaded by Dr. Carter Woodson, Hubert Henry Harrison, and Marcus Garvey; the controversy around the Anthony Bill and women's suffrage; colorism; and even cosmetics. Ideal companion piece for grade 8 American History classes. Teachers may want to use this book to approach discussions on racism and compare the historical perspective with current incidents.
Historical Fiction          Bernadette Cooke, SD of Philadelphia