Girard, Geoffrey. Truthers. Carolrhoda LAB/Lerner Publishing Group, 2017. 978-1-5124-2779-0. 360 p. $17.99. Gr. 9 and up.
Katie never believed in her dad; he let her down too many times to count.  His bad combination of drugs and alcohol left Katie picking up his responsibilities all throughout her childhood, forcing her to learn that the only person she can depend on is herself.  When the police bring Child Services to her front door, Katie isn't shocked, knowing it was only a matter of time.  What she didn't expect was to hear her dad has been admitted to a mental institution due to a violent encounter with coworkers and claims of 9/11 conspiracies involving former vice president Dick Cheney.  Katie remembers her dad spouting "truther" conspiracies sporadically, mostly when he was either drunk or high.  But when her dad shares a dark secret with her, she finds herself thrust into a world of lies, half-truths, and corruption.  Now Katie must figure out if her dad could be telling the truth, which would shake up her world completely, or if he really is in the place where he belongs.  THOUGHTS: Girard's novel had me riveted and horrified all at the same time.  Like many reading this review, I remember 9/11 very clearly.  I can tell you where I was when each plane crashed, how I felt when each tower crumbled before the world's very eyes, and how my friends, family, and students were directly affected by what happened that terrible day.  To read this fictional character, Katie, explore all-to-real "truther" points-of-view, I was so upset by how plausible it all seemed.  I have never given credence to the "truther" movement before, and I cannot say this book has convinced me to believe in any way, nor was that the author's intent, however I can see how easily it would be to get caught up in it all, just like Katie was.  I would recommend this to any high school teacher who is looking to get their students more involved in questioning the world around them, even if it means questioning their own government.
Realistic Fiction          Sandra Reilly, Pleasant Valley School District
Jackson, Tiffany D.  Allegedly.  Katherine Tegen Books, 2017.  978-0-06-242264-4. 387 p.  $17.99.  Gr. 9 and up.
After serving six years in jail for allegedly killing a three-month-old baby who was in the care of her and her mother, Mary Addison now lives in a group home and is on house arrest.  She volunteers at a nursing home, where she meets Ted and ends up getting pregnant with his baby.  When she realizes she won't be allowed to keep the baby, she decides it is time to tell the truth about what happened that fateful night so that she may be exonerated.  Finding someone to believe her, however, may be more difficult than it seems, and in the end, the truth may not be clear and straightforward.  A searing portrait of relevant issues like mental illness, media bias, race, complicated family ties, and the criminal justice system, this novel is sure to spark debate among its readers.  THOUGHTS: I found myself unable to put this book down, as I desperately wanted to discover the truth about Mary and her mother.  Besides the suspense, the empathy and pity I felt for Mary, along with the plot twists along the way, kept me coming back for more.  I would recommend this title to fans of Gillian Flynn's Gone Girl, Paula
Hawkin's The Girl on the Train, or fans of the Netflix series Orange is the New Black.  An excellent addition to any YA collection.
Realistic Fiction     Julie Ritter, Montoursville Area SD
Dessen, Sarah. Once and for All. Viking Books for Young Readers, 2017. 978-0-425-29033-0. 368 p. $19.99. Gr. 9 and up.
With her mom, a famed wedding planner, Louna lives amidst many teen girls' dreams, taking a ringside seat working at lavish weddings. Being part of the planning and execution, however, is not as glamorous as one may think. Though they make their livelihood on love, Louna's mother Natalie and her mother's business partner William don't believe in it. In fact, their post-wedding celebration includes a bet on how long (or not) each marriage will last. Their cynicism is starting to rub off on Louna; she can feel it. With her own first love ending tragically last year, Louna feels like she missed out on her one and only. It takes meeting Ambrose, an impossible and annoying son-of-the-bride (and later brother-of-the-bride) to bring Louna out of her shell. With the support and distractions of her best friend Jilly, who is constantly taxiing her siblings around while her food truck parents work, Louna enjoys one last memorable summer of wedding planning.   THOUGHTS: Fans of Sarah Dessen's sweet teenaged romance novels will swoon over this newest book. Set amongst a beautiful summer wedding season, it successfully looks at love and loss. Descriptions of sex and teen drinking may not be suitable for younger readers.
Realistic Fiction   Maryalice Bond, South Middleton SD
I look forward to each new novel by Sarah Dessen. While her newest release is not as strong as her previous titles, the story is still engrossing and will be heartily enjoyed by any young person interested in novels focused on relationships and personal growth. Louna has spent her life around weddings, since her mother and her mother's best friend own one of the premiere wedding planning businesses in their town. Louna is an old hat at calming down a bride and finding an errant wedding guest. Yet, a previous heartache has caused her to question marriage and she has given up dating for the foreseeable future. The summer before college, she works at her mother's business every day. When her mother hires the brother of one of their clients, she immediately questions this decision. Ambrose is annoying, loud, and constantly in search of his next date. Ambrose and Louna decide to make a bet- Ambrose has to date someone for longer than two or three dates, and Louna has to go on as many first dates as she can. The bet leads to some funny outcomes and interesting interactions between the two. The characters, as always, are engaging and likeable even with their faults, and the story moves back and forth between Louna's present and the love of her past. THOUGHTS: While a bit cliche at times, this title will be enjoyed by many teens looking for a simple, easy lovestory.
Realistic Fiction    Lindsey Myers, Shady Side Academy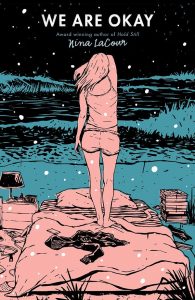 LaCour, Nina. We Are Okay. New York, Penguin: 2017. Print. 978-0525425892. 240 p. $17.99. Gr. 9-12.
Nina LaCour has written a beautiful little gem of a novel about truly understanding one's family and accepting the life we have to lead. Marin escaped from her home in California after a tragedy, leaving for her new collegiate home in rural New York. She cut herself off from her life and friends, not answering any texts from her best friend, Mabel. But, when the winter break comes around, Mabel comes to New York for a visit, and Marin must begin to confront her past and come to terms with the life she now must lead. The story jumps easily from Marin's past and her life with her beloved grandfather, to her present, quiet existence at school. Marin and Mabel's complex relationship slowly reveals itself, and LaCour shares their experience with compassion and grace. THOUGHTS: I highly recommend this novel for libraries with a vibrant teen collection.
Realistic Fiction     Lindsey Myers, Shady Side Academy