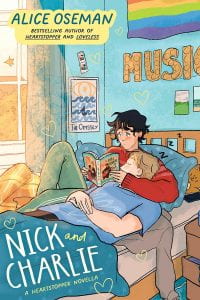 Oseman, Alice. Nick and Charlie: A Hearstopper Novella. Scholastic Press, 2023. 978-1-338-88510-1. 176 p. $16.99. Grades 9-12.
Seventeen year old Charlie, Head Boy of Truham Grammar School, is a relatable, insecure teenage boy. Nick, Charlie's eighteen year old boyfriend of two years, just completed Year 13 and will be heading off to university in the fall. Just completing Year 12, Charlie will be left behind. Though they've agreed to keep their relationship going long distance, Charlie can't stand to hear Nick excitedly talk about uni. The fact that this happens more now that Nick's Year 13 is coming to an end makes Charlie feel extremely guilty. But the thought of not being in the same place everyday makes Charlie wonder if they'll make it. Oblivious to Charlie's insecurities, Nick happily documents his love for Charlie on a disposable camera. Meanwhile, Charlie obsessively checks his Tumblr where everyone seems to think his relationship with Nick will end – what first love, long distance relationship lasts? Charlie wishes Nick would read his mind and realize he's worried about their future, while Nick wonders what's bugging Charlie. When news of another long-term relationship ending surfaces at an end of the year party, Charlie drunkenly pushes Nick away, ending in an explosive, public argument. Did they just break up? Neither willing to admit their relationship is over – but also not willing to ask the other – Nick and Charlie need to work through their feelings for each other while revising (studying for exams). A bonus explanation for American readers written by editor David Levithan is at the end and will give some clarity to readers who struggle with the British-isms.
THOUGHTS: Nick and Charlie are lovable characters who – like many teens – let their insecurities get in the way of talking about their feelings. Highly recommended for high school collections, especially where Heartstopper and other Oseman titles are popular.
Romance, Realistic Fiction