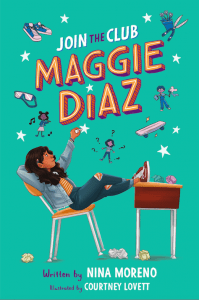 Moreno, Nina. Join the Club, Maggie Diaz. Illustrated by Courtney Lovett. Scholastic, 2022. 978-1-338-83281-5. 229 p. $7.99 (pbk.). Grades 3-6.
Reminiscent of Frazzled by Booki Vivat, Join the Club, Maggie Diaz by Nina Moreno has as its protagonist a Cuban-American girl ready to start seventh grade in middle school whose friends seem to have found their niches while she is still searching for hers. As the short, sweetly illustrated novel opens, Maggie's mother is finishing her accounting degree, the Diaz family has welcomed a new baby brother, and their grandmother has come to live with the family in Miami after their grandfather's death. Until her tiny house is completed in the family's backyard, Abuela has become Maggie's roommate. She is not shy about providing Maggie with unsolicited direction and advice (in Spanish). Maggie's aim to be independent and grown up is thwarted by her lack of a cell phone, her busy parents' strict rules, and the overshadowing of her seemingly perfect older sister, Caro. Intertwined seamlessly in the plot is Caro's LBGTQ+ relationship with her tutoring buddy, Alex, and Mrs. Diaz's positive acceptance of their relationship. Pressured to appear like she is fitting in, Maggie tells little white lies and tries joining every club she can. The one catch to admission to a club, however, is good grades. Maggie finds herself overextended and in over her head and her grades are slipping. If that happens, her prize of a cell phone and more freedom go out the window. With humor and pathos, Maggie muddles through and finds strength in unexpected people. Young readers will identify with Maggie's struggles to find her special thing and keep up with her schoolwork in an unfamiliar environment of both a new school and a new stage in life.
THOUGHTS: Fitting in and finding one's place in middle school is not an easy task. Books that have characters failing and trying at the same thing can be encouraging. It helps that Join the Club, Maggie Diaz is a quick read. Maggie's up and down relationship with her grandmother is also a connection with real life. A fun and relatable read, especially for reluctant or struggling readers.
Realistic Fiction          Bernadette Cooke, School District of Philadelphia