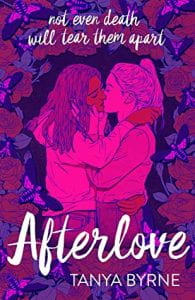 Byrne, Tanya. Afterlove. Hodder Children's Books, 2021. 978-1-444-95595-8. 400 p. $17.99. Grades 9-12. 
The last thing that Ash hears is breaking glass, followed by confusion. Is she still alive? Is she dead? She is met by a group of girls who tell her she has been chosen to be a Reaper, and she has to start over with this new "life." However, all Ash wants is to see her girlfriend Poppy again no matter what. This is a unique LGBTQIA+ story, with a splash of paranormal thrown in.
THOUGHTS: The characters felt very unique and relatable, and the plot was extremely well crafted and thought out. The ending was gut wrenching but felt true to the plot and didn't feel rushed at all. I would highly recommend this book for every high school and public library. 
Romance          Mary McEndree, Lehigh Valley Regional Charter Academy