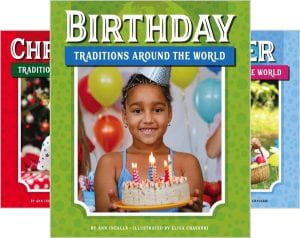 Traditions Around the World.  The Child's World, 2022.  $30.79 ea. Set of 8. 32 p. Grades K-3.
Axelrod-Contrada, Joan. Halloween and Day of the Dead Traditions. 978-1-503-85016-3.
Cosson, M.J.  Easter Traditions. 978-1-503-85015-6.
—. Wishing Traditions. 978-1-503-85014-9.
Ingalls, Ann.  Birthday Traditions. 978-1-503-85011-8.
—. Christmas Traditions. 978-1-503-85012-5.
Kesserling, Susan. National Day Traditions. 978-1-503-85017-0.
Malaspina, Anna. New Year Traditions. 978-1-503-85018-7.
—. Tooth Traditions. 978-1-503-85013-2.
Each volume of this collection discusses various holidays, celebrations, or traditions in a variety of countries. These include Christmas, birthdays, Easter, Halloween, New Year, National holidays, and customs regarding tooth loss and wishing.  The text is formatted in typical nonfiction style and includes a table of contents, glossary, index, and suggested supplemental reading. What makes this series interesting is that the author has included at least one country from every inhabited continent. In Christmas Traditions, there are pages for Uganda, Chile, and India. In Birthday Traditions, one can learn about customs in Australia, Ghana, and Korea. At the bottom of each country's page, a world map highlights the featured nation in red. The texts give some general background about the featured subject on the first few pages. The author includes either a craft or recipe as well as a song in the back matter. There are colorful photographs or illustrations on each two page spread. 
THOUGHTS: Although the set is a bit pricey, it is a good choice for those libraries needing updated diverse materials on holidays and traditions. This set is also useful for demonstrating nonfiction text features. Also available in digital format.  The volumes about Christmas Traditions and Birthday Traditions were used for this review.
394 General Customs          Denise Medwick, Retired, PSLA Member