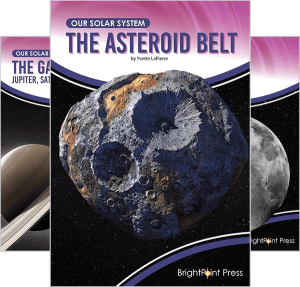 Our Solar System. BrightPoint Press, 2023. $33.05 ea. $198.30 set of 6, 64 p. Grades 6-12. 
Fraiser, Carolyn Bennett. Moons. 978-1-678-20406-8.
LaPierre, Yvette. The Asteroid Belt. 978-1-678-20402-0.
Mitchell, KS. The Gas Giants: Jupiter, Saturn, Uranus, and Neptune. 978-1-678-20404-4.
Terp, Gail. Pluto and the Dwarf Planets. 978-1-678-20408-2.
Thacher, Meg. The Terrestrial Planets: Mercury, Venus, Earth, and Mars. 978-1-678-20412-9.
Wolny, Philip. The Sun. 978-1-678-20410-5.
This reviewer evaluated the titles The Sun and Moons. Each of the series titles is organized in a similar fashion, with a two-page 'at a glance' summary preceding the books' longer introduction and chapters. An index, source notes, and a bibliography is included for students to use in further research of the topic. In The Sun, Wolny includes information about the Parker Solar Probe, launched in 2018 to gather new information about Earth's relationship with the Sun. The book also contains information about heliocentric and geocentric models, and it covers civilization's historical understanding of the Sun. Moons contains a multitude of information about not just Earth's moon but the many other moons present in the solar system. In each book, the authors take care to place vocabulary words in bold font, and they include clear text features with extra information on missions and locations. Pictures are varied and contain captions that do not distract from the chapters' text.
THOUGHTS: These new hi-lo solar system nonfiction titles will be great primers in all things outer space for interested students in both middle and high school. The up-to-date information offered in this collection will be a welcome addition for libraries that may be living with an otherwise aged natural science nonfiction collection. One thing I particularly liked about this series is its inclusion of carefully curated source notes and bibliography. The authors include credible online sources (as well as books), so students easily can look up additional bits of information as needed. These series books are short but mighty at 64 pages each, and this series makes great resource material for young scientists!
500 Science