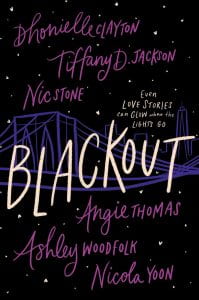 Clayton, Dhonielle, Tiffany D. Jackson, Nic Stone, Angie Thomas, Ashley Woodfolk, and Nicola Yoon. Blackout.  Harper Collins, 2021. 978-0-063-08809-2. 256 p. $19.99. Grades 9-12
Blackout, a young adult novel for teens, is comprised of six interlinked stories that celebrate Black love and friendship during a citywide power outage. The citywide blackout causes the characters to go into a tailspin. Their friendships and relationships are tested and changed- and in some cases, begin anew. These six short stories are beautifully interconnected, and readers will fall in love with every character in the novel. The reader meets Jacorey (a gay athlete who has yet to come out), Tammi and Kareem (exes who run into each other at a job interview), Nella (who gets a boost of self-confidence from her Grandfather and a new acquaintance), Lana and Tristian (who are lost in the public library), Kayla (who already is in a relationship but may want something different), and Seymour and Grace (who share a ride through the city). All six stories celebrate young love and friendship and are written with authenticity and heart.  
THOUGHTS: What an anthology! Not only is the novel's premise beautiful, but the characters are so well developed that their voices are shining through on every page. With the collaboration of six of the most influential women in current YA literature, the novel celebrates coming of age in one of the most vibrant cities in the world: New York City! Blackout is also available as an audiobook, which is just fantastic! The only downfall is that the anthology ended. It leaves the reader craving more stories from each of these characters. 
Short Stories          Marie Mengel, Reading SD
Realistic Fiction

A collection of short stories written by acclaimed authors are woven together as each story is set during a blackout during the summer in New York City. Some stories are not completed in one section, but bounce back and forth which could be challenging for some readers to comprehend. Although the flow of some stories isn't constant, it helps connect all the stories and characters as experiencing something universal: love and a summer night in NYC when the lights are bizarrely out. All stories celebrate love in many diverse ways. The stories almost took on the feel of novellas, as some stories stretched a bit longer with characters that were easy to relate to or to cheer on from the sidelines. The details about New York City are highlighted artfully throughout each story that isn't often seen in YA fiction. The book ends with bonus content from all six authors that provides further context into their work. 
THOUGHTS: If you already have YA short story collections like Let it Snow on your shelves (or always off your shelves), this is a great addition for high school libraries looking for fiction that tells stories of Black love and LGBTQ+ love without a focus of oppression. 
Short Stories          Samantha Hull, Ephrata Area SD
Realistic Fiction