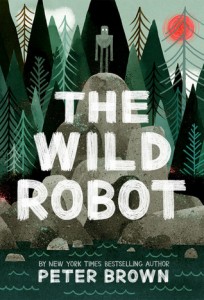 Brown, Peter.  The Wild Robot.  NY: Little, Brown, and Co., 2016.  978-0-316-38199-4.  $16.99. 279p.  Gr. 3-6.
One stormy night, a ship of ROZZUM robots sinks near a tiny, uninhabited island.  Most of the robots go down with the ship, but one survives entry onto the island's rocky coast and is activated by a group of playful otters. ROZZUM unit 7134 (or, Roz, as she is known to the reader) is designed for the civilized world and must quickly adapt to her new surroundings.  Fortunately, she has the ability to learn and adapt.  The animals are fearful of Roz and believe that she is a monster.  Over time, Roz learns to speak the animals' languages, but they do not truly begin to accept her until she adopts a gosling whose mother she has accidentally killed.  Roz takes her role as surrogate parent seriously; she turns to the other animal mothers for advice on feeding and sheltering her new charge.  The island's animals begin to offer help and advice as Roz raises "Brightbill".  Although Roz is not supposed to feel emotions, any parent can empathize with the anxiety she feels when Brightbill must fly south for his first winter.  Eventually, the island's peace is shattered by RECO robots with guns who are sent out by Roz's manufacturer to retrieve all missing ROZZUM units.  The animals, who are used to surviving the cruelty of the animal world, band together to protect Roz, but they are no match for the RECOs.  However, the story ends on a hopeful note and hints at a possible sequel.  THOUGHTS:  This book is an intriguing cross between survival stories like Hatchet and robot stories like The Iron Giant.  It will have wide appeal among middle grade students and should be included in any library collection.
I really enjoyed The Wild Robot.  Roz and the island animals have distinct, almost human personalities, and the story is unexpectedly suspenseful.  This book is excellent for students making the transition from picture books to novels.  The chapters are short and generously illustrated.  The "animal-speak" featured in this story will also be easily understood by younger students.  Brief, action-oriented chapters (which often end with some kind of cliffhanger) make this book an appropriate read-aloud for teachers trying share the wonders of literature with their students.  The Wild Robot is truly something special.
Fantasy; Sci-Fi            Susan Fox, Washington Park School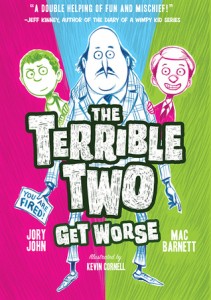 Barnett, Mac and Jory John. The Terrible Two Get Worse. New York: Amulet Books, 2016. 978-1-4197-1680-5. 217 p. $16.95. Gr. 3-6.
The Terrible Two, Miles and Niles, are back at work in Yawnee Valley, pranking any and all…especially their favorite "goat," Principal Barry Barkin. Unfortunately for the Terrible Two, their favorite target is unexpectedly taken away. Principal Barkin is removed from his job for his inability to control all the pranking, and is replaced by his father, former Principal Bertrand Barkin. Miles and Niles are excited to begin a new era of pranking the Barkins, but the elder Barkin turns out to be quite a formidable opponent. He refuses to acknowledge their pranks, so the boys become ineffective and down in the dumps. They decide that they must resort to desperate measures and recruit a temporary member to their team…Barry Barkin. In typical Terrible Two fashion, they come up with a winning plan that might go down in Yawnee Valley history as the best prank of all time. Barnett and John are their own terrific twosome, writing another hysterical story about Miles and Niles and their friendship. Kevin Cornell's illustrations are fantastic, adding quirky and fun details to the story. THOUGHTS: Give this winner to your kids who like mixed text and illustration series (think slightly more sophisticated Diary of a Wimpy Kid) who like to laugh. It would make a fantastic read-aloud.
Humorous Fiction    Lindsey Long, Nye & Conewago Elementary Schools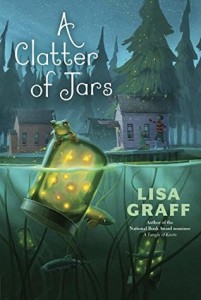 Graff, Lisa. A Clatter of Jars. New York: Philomel Books, 2016. 978-0-399-17499-5. 217pp. $16.99. Gr 3-6.
Camp Atropos is a place where children with singular talents flock for the summer. Their talents range from being able to identify frogs, to mindreading, to memory recollection, and many more, but not everyone at Camp Atropos possesses a talent. Jo, the camp director, is talentless but has a bustling black-market business copying and selling her campers' talents. These mimic talents ultimately become her downfall when a group of campers from Cabin 8 discover what she's up to and set out to expose her. Several children attend camp with their siblings, and these sibling relationships and rivalries take center-stage in this novel as well. Each chapter is narrated by a different camper, and that camper's name as the chapter title helps keep the large cast of characters straight.  This book is the sequel to Graff's 2013 title A Tangle of Knots, and several characters from that book make appearances in this story as well. However, it is not necessary to have read A Tangle of Knots to keep up with this title's storyline.  THOUGHTS: This title will be popular with fantasy fans, and it's also a good choice for students looking for a summer-themed read. Pair it with another camp title such as Louis Sachar's Holes or with other summer adventure stories such as The Fantastic Secret of Owen Jester or Three Times Lucky.
Fantasy    Anne Bozievich, Friendship Elementary, Southern York County