Brezenoff, Steve. Guitarist Wanted (Boy Seeking Band Series) Capstone Press, 2017.  978-1-4965-4448-3. 96 p. $19.54. Gr 5-8.
Finding just the correct members for a band is challenging for Terence Kato. Moving is difficult enough, but now he needs to add members to the band that have different skills or backgrounds. The book concludes with trivia regarding music terms to see if you would make the band.  THOUGHTS: Students will appreciate the fast pace story and look forward to  reading the Boy Seeking Band series.
Realistic     Beth McGuire, Hempfield Area School District
Martin, Emily Winfield. Snow and Red. Random House, 2017. 978-0-533-53818-2. $17.99. 224 p. Gr. 4-7
Life drastically changes when their father never returns from the woods. Their mother is distraught, and their lavish lifestyle is exchanged for a little dwelling in the woods. While in the woods the sisters come across a goblin. Snow's birthday wish is for everything to go back to the way it was before. Shortly after, Snow and Rose save a bear stuck in a hunting trap. Also in the woods, they meet The Librarian of unique objects and Ivo, an underground dwelling boy. What objects will they find and what happens to their new friends?  THOUGHTS: The illustrations and enchanting chapter artwork are sure to draw in the most reluctant reader and add additional excitement to the readers that are naturally drawn to fairy tales.
Fantasy, Fairy Tale    Beth McGuire, Hempfield Area School District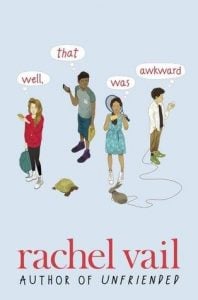 Vail, Rachel. Well That Was Awkward. Viking, 2017. 9780670013081. $16.99. 314p. Gr. 5-8.
Gracie and Sienna are best friends. Gracie realizes she has feelings for a classmate, AJ, and is upset to find out through their good friend, Emmett, that AJ likes Sienna. Emmett and Gracie have known each other since they were young, and Gracie doesn't realize that Emmett has a crush on her. All she knows is that her friend, Sienna, needs her help crafting the perfect witty texts to AJ. It breaks Gracie's heart to help her friend build a relationship with the boy she has a crush on, but she does it because she is a good friend. It makes her feel even worse when AJ's return texts are romantically funny. Unbeknownst to them, Emmett is the one writing AJ's return texts because AJ doesn't know what to say. To complicate matters, Gracie is living in the shadow of a sister, Bret, that passed away before Gracie was born. She feels tremendous pressure to be the perfect daughter and keep her parents happy.  THOUGHTS: This is a great middle-grade retelling of Cyrano de Bergerac. I'm always looking for good books for my 7th graders, and I was happy to have found this one that has realistic banter and situations.
Realistic Fiction            Bridget Fox, Central Bucks SD
Blackburne, Livia. Rosemarked. Hyperion, 2017. 978-148478855-4 390p. $17.99.  Gr. 6 and up.
Zivah is the youngest healer her village has ever seen.  When an outbreak of the Rose Plague breaks out among the soldiers stationed in her village, of course, she has to help.  When she becomes infected, she survives but is "Rose Marked," meaning she will live for only a short time longer and is contagious.  Dineas is a soldier who was captured by the Amparans and tortured.  He also gets the plague, but survives as "Umber Marked." He is immune to the Rose Plague.  Zivah and Dineas meet under stressful circumstances and do not like each other, yet they take on a mission to go to the capital city to try to help overthrow the Amparans.  There is much intrigue and deception involved.  THOUGHTS: This is a very smart book that made me marvel at its cleverness at how quickly I was involved in this world.  Fans of The Ember in the Ashes will enjoy this one.
Fantasy      Toni Vahlsing, Abington Friends School
Blackburne, Livia. Rosemarked.  Hyperion. 2017. 978-1-48478-855-4. 390 p.  $17.99. Gr. 6 and up.
A tale of political intrigue and espionage told in the alternating voices of two teens living under an oppressive regime.  Zivah is a gifted healer who has trained her entire life to reach the level of a master.   As she celebrates her achievement, a battalion of the occupying Amparan Army falls ill with rose plague, the contagious disease that kills most who contract it within a few days.  A lucky few survive for a few more years, but they are "rosemarked" with red blotches,  contagious and forced to live apart from the general population.  The luckiest few survive the disease and become "umbertouched", covered with dark spots that indicate the person is completely cured and immune to further infection.  Zivah herself falls to the disease, rosemarked and destined for a lonely and uncertain future. But she is remembered by the Amparan general whose life she saved; he rewards her with an offer to live in the capital and train with the medical experts there.  As she ponders that offer, she meets Dineas, a young warrior from the rebel Shihadi tribe, who has escaped from the Amparan prisons.  Umbertouched after his bout with rose plague, he is now on a quest for vengeance against the Amparan leaders. The two teens, so different in temperament and outlook are brought together by their tribal leaders to fight against the empire. Together, they travel to the capital to spy on and sabotage the rulers. They come to rely heavily on each other and a strong attraction begins to form as they work on their dangerous mission. Rosemarked is the first book in a new political fantasy/adventure series.  The novel is slow to start but builds in intensity as the teens go deep undercover to strike against the oppressive regime. The novel explores such themes as social and racial prejudices, medical ethics and the fight of a conquered people against oppression.  There is solid character development with heroes and villains who are nuanced and fully fleshed out individuals, each with positive and negative traits that humanize them and make them believable.  THOUGHTS: Recommended for fans of tales such as The False Prince or Ember in the Ashes. The cliffhanger ending will leave readers waiting eagerly for the next volume.  
Fantasy; Adventure           Nancy Summers, Abington  School District