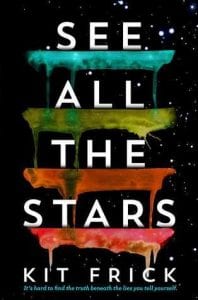 Frick, Kit. See All the Stars. McElderry Books, 2018. 978-1-534-40437-3. 320 p. $18.99. Gr. 9 and up.
THEN it's the summer before junior year, and Ellory has everything going for her – three best friends who are her whole universe, a boy she meets and starts to falls for, and plans for her future.
NOW it's the star of senior year, and Ellory's world has imploded because of secrets. Following an extended suspension (reason unknown), she has to start over all alone back at Pine Brook High School. Outcast and feared by most, Ellory walks the halls and suffers through classes while wrecked with guilt over everything she's lost.
Told in alternating time periods, readers will piece together the destruction of Ellory's life as she knew it.
THOUGHTS: The mystery of Ellory's junior year definitely will encourage readers to devour this book. Give See All the Stars to fans of realistic mysteries and fans of multi- or unreliable narrators like We Were Liars! PS – It's also locally set on the West Shore of South Central, PA!
Realistic Fiction          Maryalice Bond, South Middleton SD
---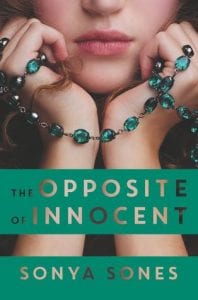 Sones, Sonya. The Opposite of Innocent. HarperTeen, 2018. 978-0-062-37031-0. 272 p. $17.99. Gr. 9 and up.
Lily has grown a lot since Luke left two years ago, and her childhood crush has deepened. Though Luke is older, he is perfection in Lily's eyes. When Luke moves in with Lily's family until he gets on his feet, she feels like the stars have aligned. Her friends don't understand her crush on an older guy and are distracted by more age appropriate love interests.
As Lily spends more time alone with Luke, she knows their love is real. Even if they can't be seen on a date in public, Lily dreams of one day. At first the secrecy is exciting. Eventually Lily catches up to her friends' opinions and questions Luke's intentions, but it may be too late to save herself from heartbreak.
THOUGHTS: A must-read for fans of dark romances, readers are drawn into this intense, page-turning verse novel. Mature relationships and underage drinking make this most suitable to high school readers.
Realistic Fiction          Maryalice Bond, South Middleton SD

---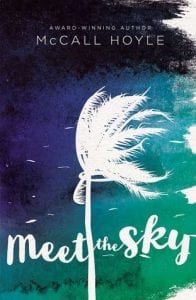 Hoyle, McCall. Meet the Sky. Blink, 2018. 978-0-310-76570-7. 256 p. $17.99. Gr. 7 and up.
There's no doubt that Sophie is a hard worker. She's a good student, and she does everything she can to ease the pressures at home. Ever since the accident that destroyed her family, Sophie has put her dreams – her life – on hold to take care of her sister and help their mom run the family business, caring for the animals.
When Finn Sanders returns to town, Sophie knows there's no way she'll let him get close to her again. Finn doesn't seem to understand why Sophie is so annoyed with him. Unbeknownst to Sophie, Finn has experienced hardships of his own. In the chaos of of mandatory evacuation, Sophie is separated from her family and becomes trapped on the island with Finn. They must work together in order to survive, but personalities will clash as they struggle to beat the storm.
THOUGHTS: Readers will root for Sophie and Finn as they race through the roaring storm, desperately trying to survive. The intensity of the storm mirrors the emotions both characters face as they come to terms with their situation and the past years of their lives. This character driven novel is great choice for any middle or high school library.
Realistic Fiction          Maryalice Bond, South Middleton SD
---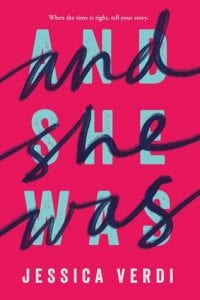 Verdi, Jessica. And She Was. Scholastic, 2018. 978-1-338-15053-7. 361 p. $18.99. Gr. 9 and up.
When her mom casually dismisses Dara's shot at achieving her dreams by providing a copy of Dara's birth certificate, she questions why and takes matters into her own hands. Her mind reveling at the what ifs, Dara doesn't expect confronting her mom will lead her to discover that her whole life is built on lie, or that the one person who has been there for everything isn't who she thought. When faced with a copy of her daughter's birth certificate and two unfamiliar names listed as parents, Dara's mom Mellie finally reveals she is transgender. Outraged at being kept in the dark, Dara gets what little information she can about her birth mother's family and sets off on a road trip with neighbor and best friend Sam to learn about from where she comes. As Dara gets closer to meeting her extended family, Mellie shares details of her story – their story – with Dara in a series of emails. Not yet ready to forgive Mellie's betrayal, Dara goes against her wishes to discover the life she could have lived. As Dara learns more about her family and her mom, she has the opportunity to make her own decision about what path her life will take. Mellie's reasoning will be obvious to readers before Dara, but for the first time in her life the ball is in Dara's court.
THOUGHTS: Mellie's story of transitioning is raw and honest and sheds some light onto an area of YA lit that is growing. Trigger warning: Mellie has her reasons for shielding herself and Dara from the extended family; their conservative viewpoints are quite obvious and sometimes extremely offensive/insensitive. And She Was will be an excellent addition for high schools looking to diversify or expand their LGBTQ+ collections.
Realistic Fiction          Maryalice Bond, South Middleton SD
---
Deracine, Anat. Driving by Starlight. New York: Godwin Books, 2018. 978-1-250-13342-7. 280 p. $17.99. Gr. 7 and up.
Meet Leena and Mishail, teenage girls living in Riyadh, in Saudi Arabia; best friends who have an "us against the world" mentality, and whose relationship is the driving force behind Anat Deracine's debut, Driving by Starlight. Leena and Mishail feel the burden of being a woman in Riyadh, where so many things are haraam – forbidden – and where a woman can't do anything without the permission or escort of a male guardian, leaving the two girls to plot small rebellions in order to push back against these unjust laws. Both girls are in precarious positions socially and politically – Leena's father is in prison for leading an insurgency against the government and its harsh laws against women, leaving her and her mother to fend for themselves; and Mishail's father is Minister of the Interior, meaning there is no room for rule breaking in her household, as it could jeopardize her father's place in the government. The two are inseparable, insisting, over and over, that "nothing they do can touch us."  Their bonds of friendship are put to the test, however, with the addition of a new girl, Daria, to their class – Daria, who is half American, who has lived in New York, who has kissed boys, and who fans the sparks of Mishail's rebelliousness into flames. And when Leena snags the attention of the boy Mishail's crushing on – a boy who admires Leena's father, and is determined to continue his work – it sends them spiraling further and further apart. While some of the Saudi Arabian laws and terms are hastily explained, it doesn't get in the way of what's at the heart of this story: the bonds of women, and the power of female unity. Although the culture, laws, and customs may be unfamiliar to Western readers, the love, angst, fear, rage, and helplessness that accompany female friendships will resonate with all readers.
THOUGHTS: This book wonderfully highlights Saudi culture and customs, and readers will come away with a better understanding of what life is truly like for the women who live there. A worthy addition to all middle and high school libraries.
Realistic Fiction          Lauren Friedman-Way, The Baldwin School
---
Clayton, Dhonielle. The Belles. New York: Freeform, 2018. 978-1-484-72849-9. 448 p. $17.99. Gr. 8-12.
Camille Beauregard and her sisters have been raised as Belles, powerful beings who have the ability to manipulate beauty and save their fellow citizens "from a life of unbearable sameness" (12). At her debut, Camille wows the crowd and the royal family with her creativity and poise, but is disappointed when her sister is picked as the Queen's favorite, securing the coveted role of royal Belle. Camille begins working in a tea shop transforming local patrons, but a mysterious change in circumstances soon brings Camille to the palace. Under the tutelage of the Princess, Camille's powers are tested – as is her loyalty to the crown. As time passes, Camille begins to see dark undertakings in the castle and questions her role as Belle. But being a Belle is all she knows, and Camille must confront the evasive history of the Belles in order to move forward.
THOUGHTS: Clayton does an excellent job of weaving class, race, and gender politics into her story and allowing readers to reflect on our own beauty obsessed world. This is an enthralling, unique fantasy with rich characters and vivid world-building. Perfect for fans of the Uglies series.
Fantasy          Vicki Schwoebel, Friends' Central School
The citizens of Orleans revere beauty, but they are all cursed with gray skin, red eyes, and hair like straw. Only the Belles, the blessed descendants of the Goddess of Beauty herself, have the ability to help them achieve the glamorous appearances they crave. Camille is part of the latest generation of Belles, well trained in the art and science of transformation. She is excited to be called to the kingdom with her sisters to learn which one of them will be chosen the favorite: the Belle who will serve the royal family and the courtiers of Orleans. The Belles themselves are all beautiful, but in different ways; they have various skin, hair, and eye colors. But Camille and her sisters soon learn there is a dark underside to the world of Orleans, and the glamorous life they long imagined for themselves is not at all their new reality. Separated from each other and unable to access reliable information, all of the Belles struggle to make sense of the world they find themselves in, a world nothing like the one they have been preparing and planning for. Camille is physically exhausted by the demands made on her, and tormented by the moral dilemmas she faces when the horrid Princess Sophia orders her to do things she finds increasingly unconscionable. The ending is satisfying, but will leave the reader eager for the next installment.
THOUGHTS: This is a fast-paced, fun, and yet thought-provoking read. Orleans is reminiscent of The Capitol in The Hunger Games, with its emphasis on outrageous fashion. There is much to dissect here concerning the value of beauty and the dangers of objectifying the human body, especially women's bodies. The fact that the book features a gorgeous dark-skinned girl on the cover, and includes descriptions of various skin colors as beautiful, is also an important positive aspect.  Highly recommended for high school libraries and for middle school libraries seeking fiction with appeal to older readers.
Dystopian; Fantasy          Maggie Bokelman, Cumberland Valley SD

---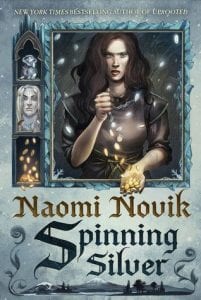 Novik, Naomi. Spinning Silver. New York: Del Rey, 2018. 978-0399180989. 480p. $28.00. Gr.  9 and up.
Naomi Novik takes us on a journey of female empowerment and collaboration, magic and mayhem, in her newest novel, Spinning Silver, loosely based on the fairytale, Rumpelstiltskin. Meet Miryem, Wanda, and Irena – three very different women from very different backgrounds, but whose stories twist and intertwine, as they each battle their own particular demons. Miryem, a Jewish moneylender (two marks against her, as far as her neighbors are concerned), who is exceedingly good at her job; her demon comes in the form of the Staryk king, a beautiful, cold – figuratively and literally – fey creature obsessed with obtaining gold at all costs. When he takes Miryem for his wife against her will, after she succeeds in turning Staryk silver into gold, she must use all of her wit and cunning to not only survive, save her family and the rest of the villagers from a perpetual winter. Wanda lives with her demon of a father, a brutal drunkard who find any excuse to beat and berate Wanda. When she becomes a servant in Miryem's household, she allows herself to visualize a life for herself and her two brothers beyond her father's clutches. Irena, invisible daughter of a duke, who has little to recommend herself to members of the opposite sex (at least, according to her father), unexpectedly becomes Tsarina, when Mirnatius, the spoiled and entitled Tsar, insists on marrying her; however, he is quite literally a demon, or at least is possessed by one – a fire demon, determined to devour Irena, who carries Staryk blood in her veins. She, too, must fight for her life, and after a chance meeting, she and Miryem become accomplices, combining the powers of their intellect and sheer lust for life, to concoct a plan to conquer Mirnatius and the Staryk king. This is a breathless, epic tale, showcasing exactly what a woman is capable of when you threaten her, and the people she loves. All three protagonists are exceedingly well-rounded, each with a unique voice and perspective, and each given a chance to shine. Particularly captivating is the shift in Wanda's relationship with her two brothers – initially cold and distant, and then, after her eldest brother, Sergey, runs afoul of the Staryk and almost dies, blindingly loving – and, in turn, their connection to their deceased mother, who seems to live on in as a white tree in their yard.  Fans of Novik's Uprooted will not be disappointed with this second fairytale retelling.
THOUGHTS: While this is an adult novel, all of the female protagonists are around eighteen years old, and will resonate strongly with young readers. These are smart, capable women who use all of the resources at their disposal to overcome seemingly insurmountable obstacles – they're mad as hell, and they're not going to take it anymore.
Fantasy          Lauren Friedman-Way, The Baldwin School
---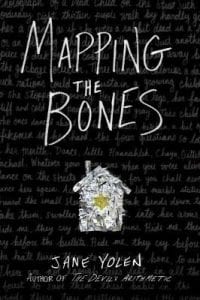 Yolen, Jane. Mapping the Bones. New York: Philomel Books, 2018. 978-0-399-25778-0. 417 p. $17.99. Gr. 7 and up.
Survival and family are at the forefront of Jane Yolen's Mapping the Bones, a Holocaust story loosely based on Hansel and Gretel. Twins Gittel and Chaim, and their parents, have been relatively lucky so far; they have a fairly spacious apartment all to themselves in Lodz, the Polish ghetto they're living in, they've managed to stay fed, and while there's always danger lurking in the form of Nazi soldiers, they all know how to keep a low profile. Then the Norenberg's come to stay with them – a German-Jewish family, who are not used to dealing with any hardship – and all of their lives are changed forever, as the fates of both families are inextricably entwined. The story takes place in three central locations, and the action is divided up accordingly: in the ghetto; on the run in Bialowieza Forest; and at Sobanek, a labor camp for Jewish youth. At the heart of everything are Chaim and Gittel; they are two sides of the same coin, and have a deep-rooted connection that began in the womb. Chaim does not speak – he limits himself to five words at a time, except when he's writing, or reciting, his poetry; poetry is his life blood, and for him, it is his duty as a witness to the horrors of war to write, and write, and write. Gittel is their spokeswoman – she is infinitely adaptable, personable, and clever, and because she narrates half of the chapters (they're titled "Gittel Remembers"), we know that at least she survives. Nothing about this story is easy – because we see everything through Chaim's lyrical lens, life (and death) in the ghetto and at Sobanek is painted in vivid, often brutal, detail; the conclusion of the book is especially gruesome. While Chaim and Gittel are phenomenally fleshed out, the supporting characters are less so, and many of them come off as one-dimensional.  This is particularly true in the case of Sophie and Bruno Norenberg; we never really get to know Sophie, though she seems innocuous enough, but Bruno is the quintessential spoiled brat – greedy, selfish, and weak-minded, it's easy to dismiss him as a coward and a villain. Except that we need to remember that he's just a 12 year old boy, thrust into the most horrific situation imaginable, with absolutely no adult guidance. As readers, let's save our ire for those who truly deserve it. Despite this, Mapping the Bones is an honest, compelling, and, at times, hopeful take on the Holocaust told by a master storyteller.
THOUGHTS: This book is categorized as juvenile fiction, but because of its often graphic portrayal of violence, and Yolen's mature and complex language, this is better suited for older adolescent readers.
Historical Fiction (Holocaust)          Lauren Friedman-Way, The Baldwin School
---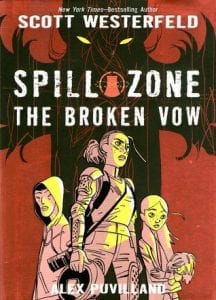 Westerfeld, Scott. Spill Zone: The Broken Vow. Illustrated by Alex Puvilland.  First Second Books, 2018. 231 p. 978-1-626-72150-0. $22.99. Grades 7-12. (Series: Spill Zone, #2)

Three years ago, Addison's world changed when another world mysteriously and powerfully entered ours; it killed her parents and left her younger sister Lexa unable to speak. Addison supported herself and Lexa by photographing inside the off-limits Spill Zone that Poughskeepie has become, trying hard to think only of the effort to live, and not to dwell on the nightmarish creatures and images stamped on her mind from her encounters. Book 1 brought Addison her big break: an art collector willing to pay her for not only her photographs but also for retrieving a unique object from the Spill Zone. Addison daringly accomplishes the task, but she has been left changed. No one can explain to her what has happened, until a North Korean agent, Don Jae, recognizes in her the same changes he has encountered in himself and in his country. Their zone is dead, but this zone is alive–and about to make an audacious move. Will Addison and Don Jae make the right decisions to help their world, or simply invite more terror? Meanwhile, Addison and Lexa struggle to come to terms with Lexa's doll, which has its own power over Lexa since the Spill–but why? Westerfeld (sci-fi creator of Uglies and Leviathan and more) has created a horrifically twisted world where humans and hope still live. Puvilland's art enhances this striking and fearful tale.
THOUGHTS: For anyone interested in science fiction and graphic art.  With volume 1, this duo is a must-have in either genre.

741.5 Graphic Novel, Dystopian          Melissa Scott, Shenango Area SD
---
St. James, Simone. The Broken Girls. Berkley, 2018. 326 p. 978-0451-47620-3 $26.00  Grades 9-12.
Idlewild Hall in Vermont.  In 1950, it was where unwanted, troubled, or troublesome girls were sent, where embarrassment and illegitimacy could be hidden.  Visitors were few, teachers were strict (and mostly uncaring), and the rumors of the ghost Mary Hand were prevalent. If you were at Idlewild for very long, Mary Hand would visit you, and you would remember. This is where four classmates, out of necessity, share with each other the turmoil that brought them to Idlewild, and forge a friendship that is stronger than this awful place–or do they?  Then one of them disappears. She's officially listed as a runaway, but her three friends know something different.
Vermont 2014, Fiona Sheridan writes fluffy freelance pieces for small-time newspapers.  It's nothing at all like the in-depth reporting her world-renowned father, Malcolm Sheridan, has accomplished.  His name still brings awe to those in the industry. But Malcolm, like Fiona, has changed in the twenty years since his daughter Deb was murdered, her body found near Idlewild Hall. Deb's boyfriend was convicted of the murder, but doubts still linger in Fiona's mind. Something still feels wrong. Now, Fiona hears of an investor attempting to restore Idlewild Hall–crumbling buildings and ghostly stories be damned–and she decides to write a story about it. But who is this investor, and why Idlewild, why now? St. James tells her story from multiple perspectives: each of the four girls in 1950, and Fiona in 2014. The result is an insightful and appropriately suspenseful story linking the past to the present.
THOUGHTS: A clever crossover novel that will appeal to YA and adult audiences. St. James successfully mixes modern suspense, gothic horror, and shameful history into a page-turner with believable characters and an ending clever enough to match the journey. Not to be missed by any gothic or suspense fan.
Mystery, Suspense          Melissa Scott, Shenango Area SD
---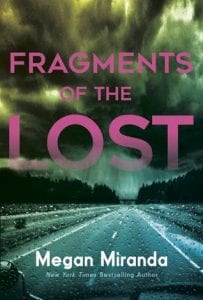 Miranda, Megan. Fragments of the Lost. Crown Books for Young Readers, 2018.  369 p. 978-0399-55672-2 $17.99 Grades 7-12.
Jessa Whitworth feels completely awkward and fully grief-laden in her ex-boyfriend's room, three months after their breakup, and two months after his death. But Caleb's family is moving, and his mother insists that Jessa clean it out, saying it's too painful for her, and that the room is full of Jessa, anyway. Since Jessa feels the blame from most of the community for his death (why did he go to her track meet the night he died? If he hadn't, maybe he wouldn't have crashed into the river….), she feels this could be a sort of penance, and maybe she deserves it. But Jessa finds that his room is full of her, and too many items bring back happy or painful memories.  The memories leave her wondering if their relationship was all that she thought it was, or if she misread herself and Caleb completely. Was Caleb hiding something from her? Why (she realizes now) was he one person with her, and another person with everyone else? And is it just grief compelling his mother to ask this of her, or does she have another motive? Jessa finds herself questioning Caleb, his past, and her own instincts. This suspenseful tale is slow in the revealing of secrets that Jessa didn't know, and what she uncovers will surprise her.
THOUGHTS: A good choice for fans of Natalie Richards (Six Months Later, One Was Lost) who like a bit of romance and a strong female character who grows through adversity. Jessa is a likable, realistic narrator who is able to see her own shortcomings and overcome them.
Realistic Fiction, Suspense          Melissa Scott, Shenango Area SD
---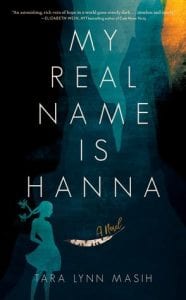 Masih, Tara Lynn. My Real Name is Hanna. Mandel Vilar Forge. 2018. 978-1-942134-51-0. $16.95. 208 p. Gr. 7-12.
Hanna Slivka lived a normal life, exploring her town, going to school, and giggling over her crush Leon. Everything was fun and normal until Hitler's army crossed into the Soviet-ruled Ukraine and took over. Now, her life is going to change as Hitler and the Gestapo declares that her town, and many others, need to be shtetele, or Jew-free. Hanna and her family will soon face challenges that they did not expect – cold and dirty stares and comments from neighbors they have known for years, limited food and supplies, and running to stay alive. Thankfully Hanna has one good neighbor, Alla, who assists as much as she can, helping with the simplest things, such as creating a pysanky egg. Hanna and her family flee to the underground caves to hide, fighting against Hitler's army and their own minds and bodies as negativity, despair, and starvation set in. The fight to survive may be more difficult then the fight against the actual army, but Hanna and her family will do anything to live on and tell their story.
THOUGHTS: A true-based story of one of the only surviving Ukrainian families during the Holocaust. Hanna's tale is heartbreaking and gripping, leaving the reader with a sense of fear that needs to be told again and again not to forget the lost souls of the Holocaust.
Historical Fiction (Holocaust)          Rachel Burkhouse, Otto-Eldred SD
---
Engle, Margarita. Jazz Owls: A Novel of the Zoot Suit Riots. New York: Atheneum, 2018. 978-1-5344-0943-9. 179p. $17.99. Gr.  7 and up.
In Jazz Owls, Margarita Engle has put a spotlight on a little known slice of history, the Los Angeles Zoot Suit Riots, that unfortunately will resonate in today's increasingly xenophobic political landscape. In the summer of 1943, a group of white, American sailors went roving the streets of Los Angeles assaulting and humiliating Latino men and teenage boys, specifically any man or boy wearing a zoot suit, a style of clothing that was perceived as "other", and therefore, dangerous; none of the sailors were arrested, but the victims were rounded up and arrested "for their own safety." This novel in verse focuses on one Mexican-American family, in particular three siblings – Marisela, 16; Lorena, 14; and Ray, 12; they're eldest brother, Nicolás, is off fighting overseas. Marisela and Ray love to dance, and especially love the Latin music popular in some of the clubs; Lorena, more introspective, is a reluctant accomplice to their nighttime entertainment. A violent altercation a lake sets the tone early on – it is clear, by Engle's use of two reporter's perspectives (simply addressed as "Reporter #1" and "Reporter #2"), that anyone perceived to be Mexican will be treated as a threat.  Indeed, the siblings all get arrested after this incident, even though they were merely bystanders, and had nothing at all to do with what happened. Each sibling internalizes this ordeal, as well as the riots, differently – while she's angry and scared, Marisela just wants to be free to dance and fall in love; Lorena is furious and outraged, especially after the riots, which she points out should be called the "Sailor Riots", as they're the perpetrators; and Ray, as one of the subjects of these vicious attacks, feels "peeled," but ready to fight. There are some wonderful moments in this book, with Lorena in particular, whose character development is the most dramatic, but overall, the writing feels a little haphazard, and will most likely leave younger readers confused about the time period rather than curious. If, instead of the two characters of the reporters (who often come off sounding like cartoon villains twirling their moustaches) Engle had put in snippets from actual primary sources, she would have accomplished the same thing in a more authentic way.
THOUGHTS: While Margarita Engle has done a service to history by giving voice to these horrific race riots, this books needs some context, and would be best as an in-class read paired with articles and/or photos from the time period.
Historical Fiction (1943)           Lauren Friedman-Way, The Baldwin School