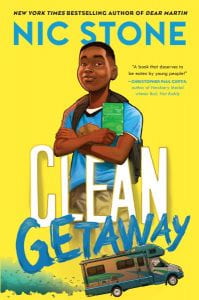 Stone, Nic. Clean Getaway. Crown Books for Children, 2020. 978-1-984-89297-3. $16.99. 240 p. Grades 6-8.

Nic Stone is typically a popular young adult writer (Dear Martin, Dear Justyce). Her debut in the middle school arena is the realistic, first-person narrative, Clean Getaway. William aka "Scoob" Lamar gets grounded when he shares a computer hack and plans to stay in his entire spring vacation. Until… his G'ma–grandmother–shows up in a RV she purchased with the profit from selling her house and asks him to accompany her on a road trip. Without telling his father, Will becomes G'ma's wingman on this memorable ride retracing the route G'ma and his deceased grandfather Jimmy took from Georgia through the rest of the South during the segregated sixties. The pair follow the Green Book, a listing of acceptable accommodations for people of color. Will's grandparents had the added burden of being a mixed race couple, against the law in many states at the time. Will experiences his African-American heritage firsthand, visiting important markers of the struggle for Civil Rights. At first, he is excited for the chance to share this adventure with his beloved grandmother, but then he notices G'ma's strange behavior: she dines and dashes; switches license plates; steals jewelry. He discovers some things that make him suspect something else is afoot, but can't quite connect the dots or even reach out to his father because G'ma keeps hiding or ditching their one cell phone. What keeps him going is the revealing conversations he has with his funny and candid G'ma. He realizes how much she loves her long incarcerated husband and suspects that his father may not be fair in his complete rejection of him. The pair's joy ride comes to a halt when G'ma falls ill, but the experience prompts Will to question the absence of his own mother and the image of his grandfather and rejuvenates his relationship with his sometimes-distant father. Though not a difficult read lexile-wise, Clean Getaway does bring up serious issues of race, inequity, and discrimination. Nic Stone has proven she is a master storyteller for middle school students as well.
THOUGHTS: The intergenerational experience lends itself to history lessons of the Civil Rights era. The discrimination Will's grandparents encountered in the sixties can be compared with the same displays of implicit bias Will and G'ma feel in their present-day travels. The reason for the grandfather's imprisonment is also steeped in racial injustice and inequity. Will has little contact with his mother because she abandoned him as a baby–addiction is implied–but Will's father is reluctant to have her re-enter twelve-year-old Will's life just like he turned his back on Jimmy, his own father. This situation as well as the racism that necessitated the Green Book lays open talk about forgiving past wrongs, both personal and institutional. 
Realistic Fiction          Bernadette Cooke, School District of Philadelphia
Meet 11 year old William Lamar, aka Scoob. Unable to stay out of trouble at school, spring break is looking pretty boring. Until Scoob's grandmother shows up and convinces Scoob to come along on an impromptu road trip across the American South in her RV. Scoob soon finds out that this trip is a re-creation of one his grandmother, who is white, and his African American grandfather took years ago. The South is changed since then, but G-ma's crazy maps, her Traveler's Greenbook (an African American guide to traveling safely in the 1960s), her changing of the license plate on the RV, and her refusal to take Scoob's dad's calls is adding up to some uneasy feelings the longer the trip continues. Add in the discovery that his G-ma may be a jewel thief, and Scoob is wishing he stayed home for that boring break!
THOUGHTS: Nic Stone's first middle grade novel is an excellent read and one that readers will enjoy. There is enough historical fiction to peak the interest of the middle grade readers while satisfying the adventure reader as well.
Realistic Fiction                    Krista Fitzpatrick, Waldron Mercy Academy