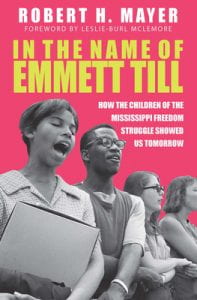 Mayer, Robert H. In the Name of Emmett Till: How the Children of the Mississippi Freedom Struggle Showed Us Tomorrow. NewSouth Books, 2021. 978-1-588-38437-9. 201 pp. $19.95. Grades 9-12.
Robert H. Mayer opens this collective history of the "Children of the Mississippi Freedom Struggle" with the event that impacted their lives and motivated their activism: The brutal 1955 murder of Emmett Till. Many young people in Mississippi identified with Emmett. They also were Black, close to his age, and knew that a system that allowed such a terrible crime to go unpunished would likely also fail to protect them if they were ever assaulted or imprisoned (whether justly or unjustly). Spurred to action, they rejected the world of Jim Crow laws, organized youth chapters of the NAACP, planned sit-ins and vigils, and spearheaded marches. Profiled members of the "Emmett Till generation" include the Tougaloo Nine, the Freedom Riders, the North Jackson Youth Council, and many more. Brief chapters on the "Elders" of the Mississippi freedom struggle – Medgar Evers, Bob Moses, and Fannie Lou Hamer – appear at intervals, chronicling the contributions of the movement's architects, especially their impact on younger people. The final chapter poses a question to readers: "Are you encouraged to examine your world and consider ways you and your peers might act to make the world better?" (177). 
THOUGHTS: There's always room on the shelf for well-written nonfiction with a different perspective on the Civil Rights era, and here Robert H. Mayer focuses on many spirited young activists and the events that shaped their commitment to the struggle. Readers without a strong interest in the topic may find In the Name of Emmett Till slow going, but excerpts would also work well for classroom discussion and research purposes. Note that in a prefatory comment, Mayer discusses his choice to include hateful racial slurs within quotes in order to illustrate "how often people used this word and how comfortable they were saying it" (xii).
323 Civil Rights Movement          Amy V. Pickett, Ridley SD