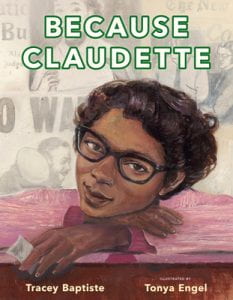 Baptiste, Tracey. Because Claudette. Illustrated by Tonya Engle. Dial Books for Young Readers, 2022. 978-0-593-32640-4. $17.99. 32 p. Grades K-8.
On March 2, 1955, Claudette Colvin refused to give up her bus seat to a white woman and was arrested. She was 15 years old. Claudette's small act of resistance led to a chain of events that culminated in the Montgomery Bus Boycott. Through her courageous act of civil disobedience, Claudette met Civil Rights activists and leaders who were inspired by her bravery to change segregation laws. Most students will have heard of Rosa Parks, but few know that she was inspired by a young teenager. This text is told in a very simple narrative with stunning oil and acrylic paintings by illustrator Tonya Engle. 
THOUGHTS: I did not know the story of Claudette Colvin prior to reading this book. The beauty of this narrative is how Baptiste shows a direct line from one small courageous act to a world-changing event. An excellent read aloud, and an important addition for elementary and middle school collections. 
Picture Book          Anne McKernan, Council Rock SD
Biography