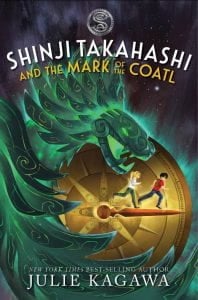 Kagawa, Julie. Shinji Takahashi and the Mark of the Coatl. Disney-Hyperion, 2022. 978-1-368-06819-2. Grades 4-7.
Shinji, a 13-year-old orphan, is being raised by his globe-trotting Aunt Yui, who is constantly searching for unique artisan products for her store, Lost River Outfitters. While aimlessly wandering a marketplace in a corner of Africa along the Zambezi River, he comes across an unusual, snake-like statue that calls to him. Literally. Shinji no sooner takes possession of the Coatl idol when trouble starts. Armed men attempt to force the Mezoamerican figurine from Shinji, eventually kidnapping the boy and taking him to the headquarters of the Hightower Corporation. There, Shinji makes an ally in Lucy, a computer prodigy his own age and they begin to unravel the mystery of the Coatl, which has turned into a tattoo on Shinji's arm. They plot their escape and form an alliance with the mysterious Society of Adventurers and Explorers to complete the mission of the Coatl before it drains Shinji's life away. This action-packed middle grade adventure holds its own in the increasingly crowded field of mythology-based series. Shinji is a relatable character, who wise-cracks at the wrong time and frequently allows his frustration to get the better of him. Lucy provides a cool foil to Shinji, with secrets of her own that propel the story forward. Kagawa deftly spreads suspicion among all the adults, leaving Shinji and the reader not sure who to trust, keeping up the suspense until the end of the book. While the story does have a Disney tie-in, it is minimally invasive. The characters are widely diverse, with Shinji being Asian; Lucy white; and the members of the Society of Adventurers and Explorers cueing as Black, Indian and white, and include a wheelchair Explorer who flies drones.
THOUGHTS: If you don't object to the minor Disney plug woven into the story, this is a solid choice for a magic-based action/adventure story. Not as heavily immersed in mythology as Percy Jackson, it should entertain readers just looking for a fun story that is hard to put down. Sequels would seem to be forthcoming.
Fantasy (Mythology)          Nancy Nadig, Penn Manor SD