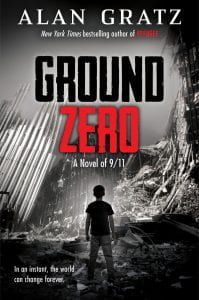 Gratz, Alan. Ground Zero. Scholastic, 2021. 978-1-338-24575-2. 336 p. $17.99. Grades 4-8.
Brandon, 9 years old, suspended from school for fighting, is spending the day with his father, who works at the Windows on the World Restaurant at the top of the World Trade Center. He sneaks away from his dad to run an errand when a plane flies into the building. It is September 11, 2001. Brandon's life has changed forever. Decades later, and a world away, Reshmina, a young Afghan girl, also lives with the fallout of that horrific day. Life in rural Afghanistan changed drastically when the US armed forces came to push back the Taliban. While no one likes the American soldiers, most Afghans fear the Taliban as well. Alan Gratz's take on the 9/11, attack follows the two young people, alternating between their stories. While Brandon fights for his life as he tries to escape the burning tower, Reshmina struggles with the burden of Pashtunwali, providing aid to those who request it. Reshmina comes across an American soldier injured during a Taliban ambush. Despite her hatred of the Americans, she cannot leave him to die after he asks for help. The move places her family in danger; her twin brother has begun working with the Taliban and threatens to notify them of the soldier's presence at their home. It won't surprise any reader that the soldier is Brandon, 18 years later. There is nothing subtle about this book. Gratz had a point to make, and he hammers it home. The two stories aren't just parallel, but painfully structured to be identical stories – an event in one story is mirrored by a similar event in the other narrative. And Gratz does not couch his opinion that everything the US did in Afghanistan was wrong and hurtful. While the current generation of readers looks for books set around 9/11, Gratz, a master of historical fiction adventure, who single handedly has converted young readers to historical fiction fans, falls a bit flat with this story. Gratz fans will want to read it, but it will not replace gems like Refugee or Projekt 1065.
THOUGHTS: Purchase where Alan Gratz is popular, but readers may be disappointed.
Historical Fiction          Nancy Nadig, Penn Manor SD
It's September 11th, 2001, and Brandon Chavez is accompanying his dad to work after getting suspended from school. His dad, a kitchen manager at Windows on the World on the 107th floor of the World Trade Center, is not thrilled that his son has to go with him today. He has told Brandon several times that they have to be a team, especially since Brandon's mother passed away from cancer. While his dad is busy at work, Brandon decides to take the elevator down to the North Tower's underground mall – but his plans are interrupted by the crash, stopping the elevator car between floors. Fast forward to September of 2019 and we meet Reshmina, who lives in a small village in Afghanistan. Her family barely scrapes by financially, mostly because the American army is fighting alongside the Afghan National Army to defeat the Taliban in what is practically her backyard. Reshmina has plenty of reasons to hate their war – her sister Hila was accidentally killed by the American army and her brother Pasoon is eager to join the Taliban, a fact that leaves Reshmina worried for his safety. She keeps out of the way of both armies until she stumbles upon an American soldier in need of help after a Taliban attack. Risking her family's safety, she offers him refuge at their home. Pasoon, angered that Reshmina wants to help an enemy, decides to join the Taliban sooner rather than later and divulge the wounded soldier's location. Each chapter alternates between Brandon and Reshmina, and their stories mirror each other until a twist is revealed at the end.
THOUGHTS: Author Alan Gratz is well-known for his action-packed historical fiction stories that are beloved by middle grade students. Ground Zero is no exception and is a must-have for middle grade libraries.
Historical Fiction          Danielle Corrao, Manheim Central SD