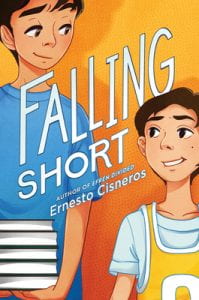 Cisneros, Ernesto. Falling Short. Quill Tree Books, 2022. 978-0-062-88172-4. 292 p. $16.99. Grades 6-8.
Sixth graders, Isaac Castillo and Marco Honeyman, are best friends, next door neighbors, and complete opposites. Isaac is a tall, basketball star who struggles in school; smart as a whip, Marco gets mistaken for a kindergartner because of his short stature. What both of them share is mutual love and care and problematic fathers. Unable to cope with his alcoholism, the loving but troubled Mr. Castillo is estranged from his wife and son. On the other hand, Marco's parents are divorced, and his father would rather write an alimony check than visit his son. The boys' warm friendship stands up to the pressure when the pair start Mendez Middle School in California. Marco classifies the different students like fish, some are aggressives and some are community minded. In Falling Short, author Ernesto Cisneros makes a solid case that being community minded is possible and preferable. Having almost failed fifth grade, Latinx Isaac has to prove that he can make the mark, and perhaps ease some of his parents' stress. Mexican-American and Jewish Marco, too, wishes to impress his neglectful father, a jock, who dismisses Marco's scholastic achievements. The basketball team is a choice that fits both boys' needs: Isaac can coach Marco in baller moves; Marco can be Isaac's loyal study buddy. Determined to escape the taunts of the school bullies–especially basketball eighth grade standout, the looming Byron–Marco takes on becoming a basketball player as an intellectual pursuit. Motivated by Marco's relentless efforts to learn how to play ball, Isaac disciplines himself to complete all homework assignments. Their bro'mance gets them through their respective feelings of inadequacy in either sports or studies and their family issues. Marco skips an elective course and completes Isaac's missed homework assignment. Isaac convinces Coach Chavez that Marco will be a valuable player on the team. Told in alternating voices that mix feeling with humor, the story reaches a climax when Isaac's dad suffers a car accident while driving drunk right before the big basketball tournament. To add to the tension, Marco's errant dad comes to see him play at the tournament. Reading how these true friends push each other to achieve their goals and affirm themselves in the process imitates the deft moves of a satisfying game and does not fall short.
THOUGHTS: Author Ernesto Cisneros mixes lots of details in Falling Short that cater to the typical middle school student: description of basketball plays, mention of well-known basketball players, team spirit, an explosive farting episode. It also touches on the awkwardness and helplessness kids can feel when dealing with parental flaws. The book includes some nice touches that point to a better world: Coach Chavez throws Byron, the bully, off the team when he finds out Byron humiliated Marco; Marco has a short teacher who can be both self-deprecating and inspirational; there is a girl on the basketball team; some of the other team members also look past Marco's lack of height and see his kindness. Spanish phrases are scattered throughout the book.
Realistic Fiction          Bernadette Cooke, School District of Philadelphia