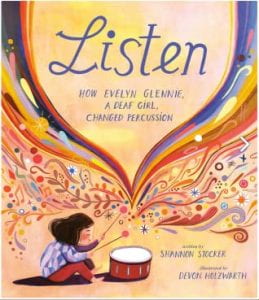 Stocker, Shannon. Listen: How Evelyn Glennie, a Deaf Girl, Changed Percussion. Illustrated by Devon Holzwarth. Dial Books for Young Readers. 978-0-593-10969-4. Unpaged. $17.99. Grades 2-4.
"This is a story of music…of obstacles…of hard work…[just] listen." As a young child growing up in Scotland in the 1960s,  Evelyn Glennie loved listening to her father play the accordion and her mother the organ. By the time she was eight, she had developed a strong love of music and could even play the piano without sheet music. The girl's life changed by age twelve when she lost her hearing. Glennie did not want to go to a school for the deaf, but instead dreamed of going to school to learn music. At her secondary school, the young musician discovered the wonders of percussion instruments.  Her music teacher encouraged her to "feel the music…resonate" throughout her entire body. Evelyn learned to listen in a different way by noting where the vibrations were felt in her body. She could feel in her legs the rumble of cars on the road and could even tune percussion by where she felt the vibrations. The percussionist was initially rejected  by the Royal Academy of Music, but insisted on a second audition and was admitted. All music schools then agreed to offer applicants with disabilities the opportunity to audition. As a student, Glennie performed her first solo and won competitions. Her career blossomed, as she recorded albums and performed on television. As the first full-time solo percussionist, Evelyn received two Grammy Awards and many other honors, including an O.B.E from Queen Elizabeth. Still performing today, often barefoot, this Scottish musician did not see her deafness as a limitation, but instead says that it  "made me a better listener." Stocker describes her connection to Glennie in the author's note.  Holzwarth's vibrant drawings are done in watercolor, gouache, and colored pencil and help bring the music alive. The illustrator depicts the kinetic energy of the sounds, which appear like waves emanating from the drums and mallets and enveloping the audience.
THOUGHTS: This wonderful picture book is a tribute to this amazing musician who overcame adversity to achieve her dream. It is a good choice for character trait units and for music teachers to inspire student musicians. A first purchase for elementary collections.
Biography          Denise Medwick, Retired, PSLA Member
92,921, 786.8092 Percussion
Tags: Picture Book, Biography, Musicians,  Percussionists, Perseverance, Deafness, Evelyn Glennie