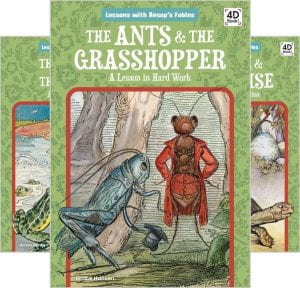 Hansen, Grace. Lessons with Aesop's Fables. DiscoverRoo, 2022. $23.00 ea. $138.00 set of 6. Unpaged. Grades 2-5.
The Ants & the Grasshopper: A Lesson in Hard Work. 978-1-098-24128-5.
The Boys & the Frogs: A Lesson in Empathy. 978-1-098-24129-2.
The Hare & the Tortoise: A Lesson in Determination. 978-1-098-24130-8.
The Lion & the Mouse: A Lesson in Acts of Kindness. 978-1-098-24131-5.
The North Wind & the Sun: A Lesson in Respect. 978-1-098-24132-2.
The Shepherd Boy & the Wolf: A Lesson in Honesty. 978-1-098-24133-9.
Each title in this series introduces Aesop, explains what a fable is, presents an actual fable, and explains the lesson it is trying to teach readers. The text is very straightforward and is broken up by illustrations and other interesting features, such as fun facts and QR codes that link to relevant online resources. A glossary, index, and "Making Connections" questions round out each volume in the series. This is a very useful, accessible series for teaching kids important lessons. 
THOUGHTS: What I loved about this series is that it does an excellent job of taking old fables and making them relevant to kids today. It incorporates technology through the use of QR codes, provides real-life examples of consequences one might actually experience, and poses questions that enable readers to relate the lessons to their own personal experiences. The online resources are entertaining and interactive. This would be an excellent addition to any elementary school in which character education is taught.
398.2 Folklore          Julie Ritter, PSLA Member