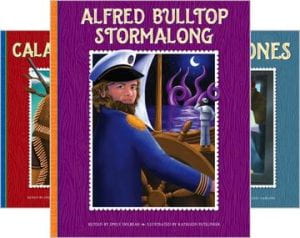 Tall Tales. Child's World, 2022. $19.95 each. $169.60 set of 8. 24 p. Grades K-3.
Dolbear, Emily J. Alfred Bulltop Stormalong. 978-1-503-85006-4.
—. Calamity Jane. 978-1-503-85004-0.
York, M.J. Casey Jones. 978-1-503-84999-0.
Dolbear, Emily J. John Henry. 978-1-503-85005-7.
York, M.J. Johnny Appleseed. 978-1-503-85000-2.
Dolbear, Emily J. Molly Pitcher. 978-1-503-85003-3.
York, M.J. Paul Bunyan. 978-1-503-85001-9.
—. Pecos Bill. 978-1-503-85002-6.

Traditional American tall tales such as Casey Jones and Paul Bunyan get a new look in this set aimed at early readers. The slim volumes are youngster-friendly; the large print, clean graphic design, and conversational text will draw readers into the story. The scope of the stories is necessarily pared down, but all the fun is intact. Readers learn how Pecos Bill got his name and became the best cowboy in Texas, and they are introduced to the early days of railroading in Casey Jones. Bold, full page illustrations add to the enjoyment. The "Beyond the Story" afterward clues readers into the exaggeration classic in tall tales, and offers insight into real-world connections.  
THOUGHTS: This set provides an abridged version of tall tales where the Steven Kellogg volumes may be too advanced. A good purchase if the collection is in need of such books. 
398.2 Traditional Literature        Nancy Nadig Penn Manor SD