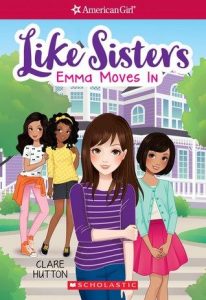 Hutton, Clare. Emma Moves In (American Girl: Like Sisters #1). Scholastic, 2017. 978-1-338-11499-7. $6.99. 188 p. Gr. 3-5.
Emma, an only child, adores the time she spends with her twin cousins, Natalia and Zoe. When her parents decide to leave their Seattle home and move across the country into her mother's family homestead, Emily's secret dream comes true: she will be living in the same town as her cousins. However, the transition is more difficult than Emily could have imagined. When school starts, she realizes her cousins have different personalities, different groups of friends, and finds herself awkwardly pulled between the sisters. Additionally, Emily's father is still in Seattle, and the extended separation is adding to the stress Emily and her mom are experiencing. Was this move a huge mistake? THOUGHTS:  An exploration of the anxieties involved with moving and starting a new school. The secondary plotline concerning the escalating anger between Emily's parents is also well portrayed. Emily exhibits good problem-solving skills in dealing with her cousins and hostile classmates but makes age-appropriate mistakes in dealing with the fear her parents are divorcing.   
Realistic Fiction     Nancy Nadig, Penn Manor School District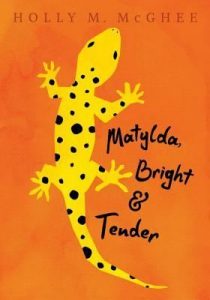 McGhee, Holly M. Matylda, Bright and Tender. Candlewick, 2017. 978-0-7636-895-1-3. $16.99. 210 p. Gr. 3-6.
Sussy and Guy have been friends since kindergarten. The pair bonded over Mr. Potato Head and never looked back. The two know they just belong together, bringing out the best in each other. Towards the end of fourth grade, the pair decide they need a pet, something of their own for which to be responsible. Guy adores leopard geckos, so they purchase Matylda and go to work figuring out how to make her happy. But in a moment of pure Guy, tragedy strikes as the pair are riding their bikes to the pet store. Now Sussy channels her grief on to Matylda, becoming increasingly desperate and reckless in her need to hold on to Guy through the gecko.   THOUGHTS:  Sussy and Guy are memorable characters, and Sussy's grief is tangible. Readers will root for her to find her way back into the world.  
Realistic Fiction       Nancy Nadig, Penn Manor School District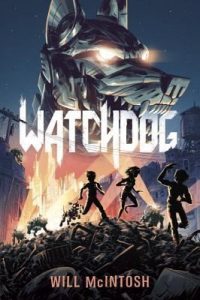 McIntosh, Will.  Watchdog. Delacort, 2017.  978-1-5247-1384-3. $16.99. 192 p. Gr. 4-7.
Orphans Vick and Tara eke out a living by scavenging electronics parts to sell. The 13-year-old twins have been on their own since their mom died after being replaced at her job by a hairstyling robot. Although Tara is autistic, she is also a mechanical genius and tinkers with making a watchdog bot named Daisy. Unfortunately, the clever mechanical dog attracts the attention of Ms. Alba, who quickly puts the Vick and Tara to work in her bot-building sweatshop. After they manage to pull off an escape, Vick and Tara are on the run, with a price on their heads. However, a shadowy groups of teens who run a chop shop, stealing domestic robots to take apart and make watchdogs, come to the twins' aid in their fight against the evil Ms. Alba. THOUGHTS:  A slightly dystopian setting with lots of action, sure to please those not ready to plunge into The Maze Runner or Hunger Games.  
Science Fiction     Nancy Nadig, Penn Manor School District
Freeman, Ruth. One Good Thing About America. Holiday House, 2017. 978-0-8234-3695-8. $16.95. 152 p. Gr. 3-7.
Nine-year-old Anais, her mother and brother Jean-Claud have recently arrived in the United States from Congo, escaping the violent, corrupt mining officials from whom her father and older brother are on the run. The book is a series of letters Anais writes her grandmother back in Congo. In each letter Anais attempts to find one good thing about America. Some days are easier than others to be positive, as the young girl battles a new language, new culture, new school and friends. Her missives reflect frustration when students at school laugh at her language mistakes, and a heart-wrenching moment when a friend's parents exhibit blatant prejudice. The book is an insight into the struggles of the many immigrant students in our schools, highlighting the difficulties Anais's mother experiences trying to find employment and housing, while maintaining stability for Anais and Jean-Claud. THOUGHTS:  A sweet book that thoughtfully illustrates a timely topic. Pair this book with Alan Gratz's Refugee. While the afterward provides guidance to Anais's broken English, a French-English pronunciation guide would have been extremely helpful. (She complains that her teacher can't pronounce her name, but we are never given any guidance as to how her name would be pronounced.)
Realistic Fiction       Nancy Nadig, Penn Manor School District