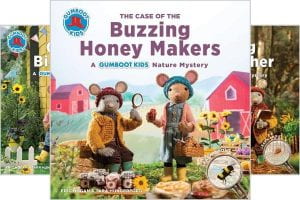 Hogan, Eric, and Tara Hungerford. Gumboot Kids Nature Mystery. Firefly, 2021. $19.95 ea. 32 p. Grades K-2. 
The Case of the Hanging Food Catcher. 978-0-228-10337-0.
The Case of the Shrinking Friend. 978-0-228-103350-5. 
The mice Scout and Daisy (aka the Gumboot Kids) have returned to solve more nature-related mysteries! In The Case of the Hanging Food Catcher, when Scout and Daisy meet to pick pumpkins, Scout mentions nearly walking into a hanging food catcher earlier in the day. They consult Scout's field notebook, where he recorded clues about his encounter, which lead them to a beautiful spider web. Their findings are confirmed when they consult a book about spiders. In The Case of the Shrinking Friend, while on a winter hike, Daisy notices that the snow mouse she had built the day before had shrunk! Using Daisy's sketchbook filled with drawings from the day prior, they set off to solve the mystery. The clues, together with knowledge they gain from a book about weather, lead them to conclude that the snow mouse is shrinking because the warmth of the sun has melted the snow. Each title concludes with a mindful moment in which Scout and Daisy pause and reflect on nature and the knowledge they have gained. Back matter includes definitions of the terms in the field notes, a fact page featuring photographs, and a related nature craft that children can complete. 
THOUGHTS: I love how this series encourages readers to solve mysteries by making observations and then consult books in the library to interpret their observations and answer their questions–what a great way to introduce the basics of the scientific research process to young readers. In addition, the series encourages readers to go out into nature, explore and engage with the world around them, and to be curious. Recommended.
500s Natural Sciences          Elizabeth Henry, Lampeter-Strasburg SD