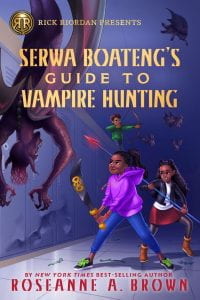 Brown, Roseanne A. Serwa Boateng's Guide to Vampire Hunting. Disney Hyperion, 2022. 978-1-368-06636-5.  400pg. $17.99. Grades 5-8.
Serwa knows that fireflies aren't just harmless bugs; in her world they are vicious vampires known as adza that come from southeastern Ghana. Serwa and her family are slayers, and they are responsible for protecting the public from these creatures. When her parents get called on a special mission, Serwa knows this is her chance to shine but her parents have other plans and leave her with an aunt and cousin to keep her safe. Serwa now has to navigate the most difficult thing she's ever had to deal with before… middle school! As things are settling down and Serwa is finding her footing, an adza attacks her school and it is up to her to figure out what is going on and protect the school and community. 
THOUGHTS: This is an amazing addition to the Rick Riordan presents books! This book is highly engaging, fast paced, and has wonderful character development throughout the pages. The ending will leave the reader wanting the next book in the series right away. This book is highly recommended for middle school collections. 
Fantasy             Mary McEndree, Lehigh Valley Regional Charter Academy