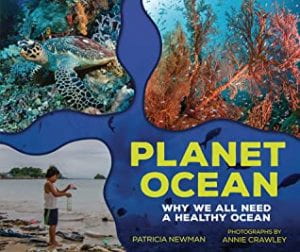 Newman, Patricia. Planet Ocean: Why We All Need a Healthy Ocean. Photographs by Annie Crawley. Millbrook Press, 2021. 64 p. 978-1-541-58121-0. $31.99. Grades 5-8.
Writer Newman and diver Crawley team up for a second book, after the success of their first collaboration Plastic Ahoy! Investigating the Great Pacific Garbage Patch (2014). Their excitement over the beauty of the ocean is evident and contagious as they visit three distinct areas of ocean: the Coral Triangle near Indonesia, the Salish Sea in the Pacific Northwest, and the Arctic Ocean at the top of the world. Since Earth is about 70% ocean and 30% land, they contend that a better name for it would be Planet Ocean. The facts they share about the importance and wonder of the ocean and its creatures make it seem amazing that much of the ocean is yet unexplored because of its size and depth. In each location they highlight young people who are working to improve the health of the oceans. Examples include a group of children who regularly meet to clean their Indonesian beach of plastic and garbage that washes ashore daily, and Inupiat teen Eben Hopson, who started his own film company and has traveled the world to show his films and educate about the changing climate in his own town. Crawley states, "I know how important the ocean is to our daily lives, how fragile it is, and how much we're changing it. I want kids and teens to speak up for our oceans" (7).
THOUGHTS: This is an engaging look at why our oceans matter, and it encourages young people to take action. Free teaching resources are available via Titlewave.
551.56 Oceans          Melissa Scott, Shenango Area SD