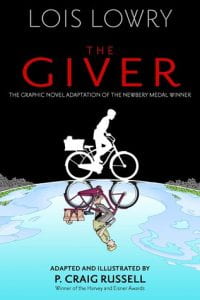 Russell, P. Craig. The Giver. Based on the Novel by Lois Lowry. Houghton, Mifflin, Harcourt, 2019. 978-0-544-15788-0. 176 p. $22.99 Grades 5-8. 
A powerful adaptation of the classic YA novel. Jonas lives in a community of perfect harmony in which the people face no hardships or concerns in their daily lives, and every decision is carefully made for each citizen by the elders. At his Age Twelve ceremony, Jonas is assigned to the unique role of Receiver of Memory, chosen to take on the memories, both good and bad, of a society who is shielded from them. With every day that passes, Jonas learns and experiences more and begins to realize the harsh truths that keep the society in order. The story remains faithful to Lowry's original dystopian tale. The panels of beautifully illustrated pictures change from muted grays to vibrant colors as Jonas' understanding of life experiences expands.
THOUGHTS: Suggest this title to provide a struggling reader or English Language Learner support for a novel which is required reading in many schools.
Graphic Novel          Nancy Summers Abington SD
---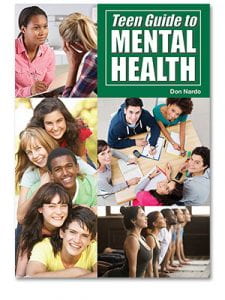 Nardo, Don. Teen Guide to Mental Health. Reference Point Press., 2020. 978-1-682-82753-6. 80 p. $30.95. Grades 6+. 
The prolific Don Nardo has another nonfiction title for the K-12 audience. This slim volume focuses on the stressors and common mental health issues facing today's teens such as body image issues, depression, and divorce in the family. Most pages have pop out quotes from mental health professionals or people who have faced difficult issues.  The book only touches briefly on many of the mental health concerns mentioned but includes a valuable resource list of websites and mental health organizations for students, parents, or teachers seeking information or help.
THOUGHTS: An optional purchase for a junior or senior high collection.
618.92 Mental Health          Nancy Summers  Abington SD
---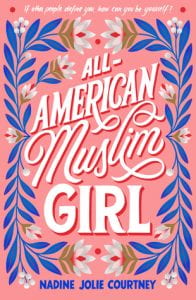 Courtney, Nadine Jolie. All American Muslim Girl. Farrar Straus Giroux, 2019. 978-0-374-30952-7.  336 p. $17.99. Grades 7+. 
Allie Abraham is the only daughter of an immigrant professor in search of a tenure track position and an American mother, who have recently settled in yet another new town just outside of Atlanta. Allie once again sets about fitting in with her new community, finding a group of friends, and even beginning a relationship with a kindhearted new boyfriend. Though her extended family from Jordan and elsewhere in the States are practicing Muslims, Allie's parents have given up most of the practices of Islam in an effort to keep their family safe from suspicion in a post 9/11 world. Ally can easily pass as an all American girl with her light complexion; she nevertheless feels left out as she is the only one of her extended network of cousins who does not practice the faith or speak Arabic. After finding a young women's prayer and Koran study group, she begins to explore her religion in earnest. The book follows Allie as she comes to terms with the many layers of her life as a typical American teen while trying to reconcile her American culture with her growing Islamic faith.
THOUGHTS: The book is enlightening, revealing many of the tenets and rituals of Islam and shedding a positive light on a religion which unfortunately is sometimes misunderstood and feared.
Realistic Fiction          Nancy Summers Abington SD
---
Lee, Mackenzi. Loki: Where Mischief Lies. Houghton, Mifflin, Harcourt, 2019. 978-0-544-15788-0. 176 p. $17.99 Grades 6+.  
A fun and witty origin tale for Loki, the trickster from Norse mythology and the Marvel Universe. Loki, the younger son of Odin, King of Asgard, has always felt inferior to his more favored and less quick witted elder brother Thor. The sibling rivalry between the brothers is explored, and the dialogue between the two of them is hilarious. Since Loki does not possess the physical strength of his brother, he experiments at an early age with his magic, a gift inherited from his mother which is not welcomed by his father. Loki finds a companion in his childhood friend Amora, a sorceress in training. At the Feast of Gullveig, Odin sees a prophecy in the Godseye Mirror of one his sons leading an army of the dead against Asgard. When the sacred Mirror is destroyed, Amora is banished to Midgard (Earth) where magic does not exist. Loki is left alone again, struggling to prove that the prophecy does not point to him. He gets a chance to serve his father when he is sent to Midgard to investigate a series of magic-related murders with SHARP, a secret society of mortals in Victorian London. On Midgard, Loki finds himself drawn to Theo, a key member of SHARP and encounters Amora once again. The book delves into LGBTQ issues in London, with Theo suspected and isolated as a homosexual. Theo is awed by Loki's open gender fluidity and his descriptions of  Asgard's open mindedness about gender and sexuality. The ending comes as Loki must choose his own path – to be a loyal prince of Asgard or the villain everyone believes him to be.
THOUGHTS: A recommended next step for fans of Rick Riordan's mythology series. This title will also appeal to Marvel fans and for fans of Lee's period adventures in the Montague Siblings books.
Fantasy Fiction          Nancy Summers Abington SD
---
Bryant, Jen. Feed Your Mind: A Story of August Wilson. Abrams Books for Young Readers, 2019. 978-1-419-73653-7. Unpaged. $17.99. Grades 4-6.
Bryant's brilliant picture book biography of the African-American playwright from Pittsburgh is truly unconventional. It is written in two acts, not unlike Wilson's plays, and is done in free verse. She concentrates more on Wilson's early life in Pittsburgh's Hill District rather than focusing on details of his plays and later life. Frederick August Kittel, his birth name, was able to read from age four, and this was encouraged by his mother, who said, "If you can read, you can do anything." The author describes the boy as a good student who dropped out of school due to prejudice and bullying, not only by students, but also by a teacher who believed that August plagiarized a term paper. He then spent his days in the Carnegie Library and educated himself by reading. While working a series of service jobs, August Wilson, as he was then known, began to write poetry and soon presented them at poetry readings. In listening to people in his hometown speak about their experiences, he acquired subject matter for his works. On the urging of a friend, Wilson began writing plays, which lead to an award winning career as a playwright whose works focused on the lives of African American men in Pittsburgh. The full page illustrations by Chapman are done in a variety of media and are symbolic in some cases. There is a striking drawing of Kittel as a teenager walking between rows of books at the library. Superimposed on the rows of books are rows of corn stalks. In the text, Bryant tells us that his mother also left school and went to work in the cornfields with her family. On the back cover, young August is pictured reading at a fancy dining table on which are platters and bowls full of books, which relates to the title. The back matter contains a timeline of this famous African American's life.
THOUGHTS: This book is a wonderful example of creative nonfiction. The author chose to write this text in a style that echoes the poetic and dramatic works of the man about whom she was writing. The book is lengthy for a picture book biography, and the text contains two instances of a pejorative word for African Americans, so students would need some background and preparation if this is used in the classroom. Readers will be inspired by the accomplishments of this self-made man and will understand how the power of books and words can change our lives.
Biography          Denise Medwick, Retired, West Allegheny SD
---